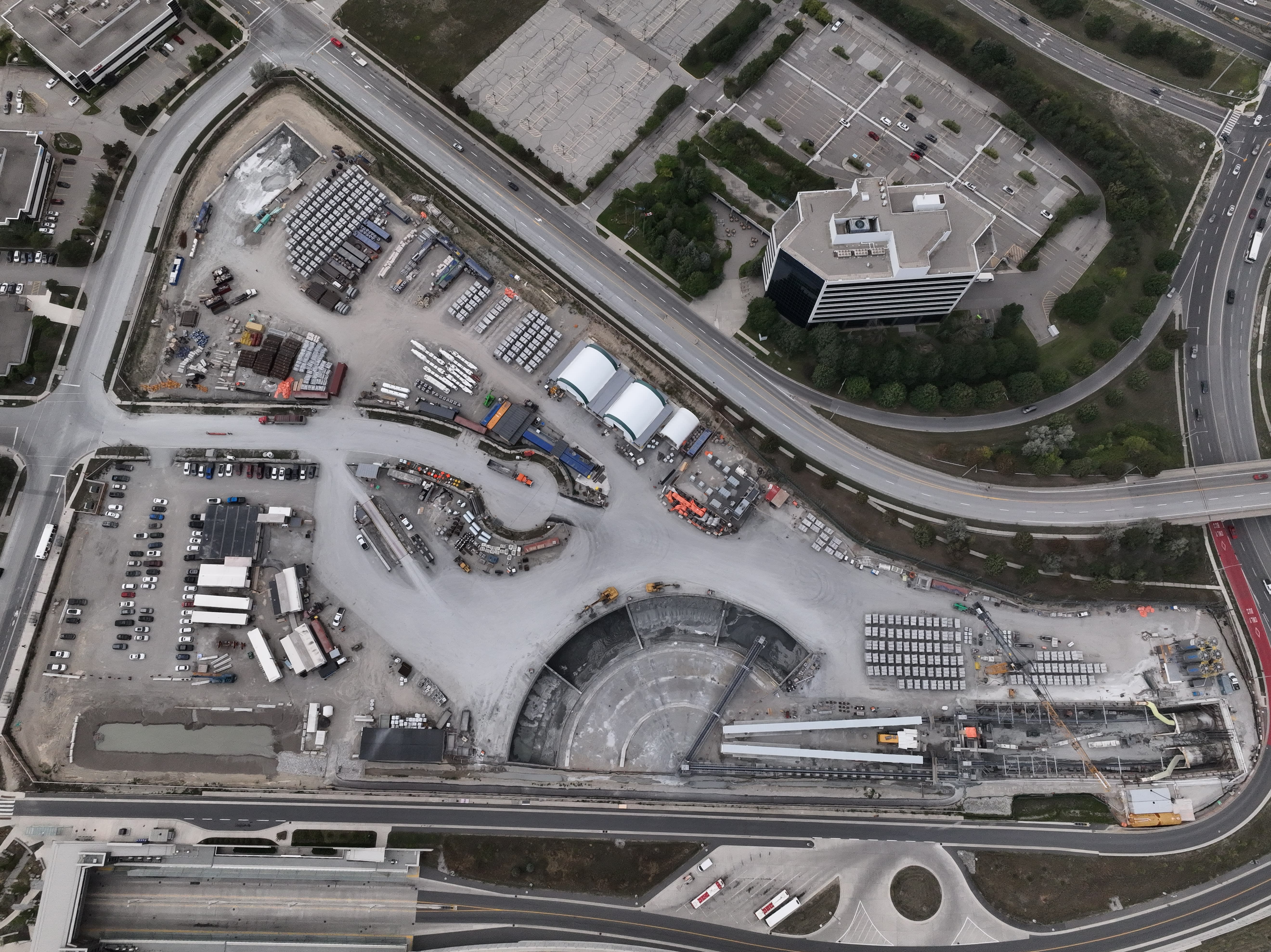 Eglinton Crosstown West Extension
Elevated guideway
The Eglinton Crosstown West Extension will operate underground from Renforth Drive to just west of Scarlett Road, where it will then transition to a 1.5-kilometre elevated guideway that will run east of Jane Street along the north side of Eglinton Avenue West before heading underground again and connecting to the future Mount Dennis Station.
The stations at Scarlett Road and Jane Street will also be elevated.
This section of the route will cross the Humber River in an identified flood plain zone, which has experienced historic levels of flooding in the past. As the likelihood of extreme weather events increases, elevating the line here on a bridge, or "guideway," is the best way to provide safe, reliable service for commuters.
Access to Fergy Brown, Eglinton Flats and Pearen parks will be maintained throughout construction.
Frequently asked questions
As we advance plans for the Eglinton Crosstown West Extension, we've been hearing questions from community members about why the line will be elevated through the Mount Dennis area.
Here are answers to some of the top questions we have received from the community:
If transit is supposed to create more sustainable communities, why are you removing so many trees in local parks for the elevated section of the line?  
The Eglinton Crosstown West Extension will reduce yearly greenhouse gas emissions by up to 5,800 tonnes and, when combined with the Eglinton Crosstown LRT, will result in 6.5 million fewer car trips each year. This will contribute to cleaner air and greener, more sustainable communities.
While building major transit lines in established urban areas does require tree removals, work has already started to plant approximately 8,500 new trees. These will offset roughly 1,300 tree removals needed in the area, about half of which are invasive species. Up to 3,500 plantings will take place in Mount Dennis area parkland, with the rest taking place in other local parks, ravines and natural feature areas.
Metrolinx is working with the Toronto and Region Conservation Authority and the City of Toronto to plant new trees as early as we can, with approximately 1,100 already planted. All trees are native species that will help to create a diverse, self-sustaining environment. Learn more about our tree planting program at metrolinx.com/vegetation.
(Tree numbers current as of November 2023)
What else are you doing to restore and beautify the park lands after construction?
Metrolinx has created a Design and Restoration Working Group for the elevated guideway and surrounding park lands. The group includes representatives from the City of Toronto, the Toronto and Region Conservation Authority, elected officials, and community groups who live near the affected areas. The group is working with the community to advance design and restoration plans for the project, with particular attention to the natural areas around the elevated guideway.
Have you thoroughly studied the potential environmental impacts of the project in these natural areas?
Yes, we have. Metrolinx first conducted an environmental assessment (EA) for a potential above-ground light rail transit line in this area in 2010 as part of the assessment for the Eglinton Crosstown LRT. 
After the Eglinton Crosstown West Extension was announced in 2019, Metrolinx prepared another EA that addressed changes to the project design in this area, including the elevated guideway. Metrolinx asked for public feedback on the report, inviting Indigenous communities, approximately 14,150 neighbourhood residents and businesses, and other key stakeholders to provide comments.
After Metrolinx assessed and responded to comments, the EA was finalized in June 2020.
How have you consulted the Mount Dennis community about plans for the elevated guideway?
Understanding community needs is a fundamental part of implementing complex projects like the Eglinton Crosstown West Extension. This is why extensive community engagement is a critical aspect of our development process. As we move forward, our Design and Restoration Working Group for the elevated guideway and surrounding park lands will play a vital role in shaping plans. 
During planning and construction, we hold hundreds of meetings with community members and host numerous public open houses. These are critical in giving people opportunities to learn about the project as well as share ideas and concerns.
Metrolinx also undertakes extensive environmental assessments (EAs) to understand and offset the impacts associated with new transit projects. Metrolinx held community consultations on all necessary EAs for the Eglinton Crosstown West Extension, which have been completed and approved.
You can find answers to other frequently talked-about topics like the route of the line, procurement, and construction on the FAQ page.
Consultations and discussions
View previous correspondence and past open houses that focused on elevated guideway plans.