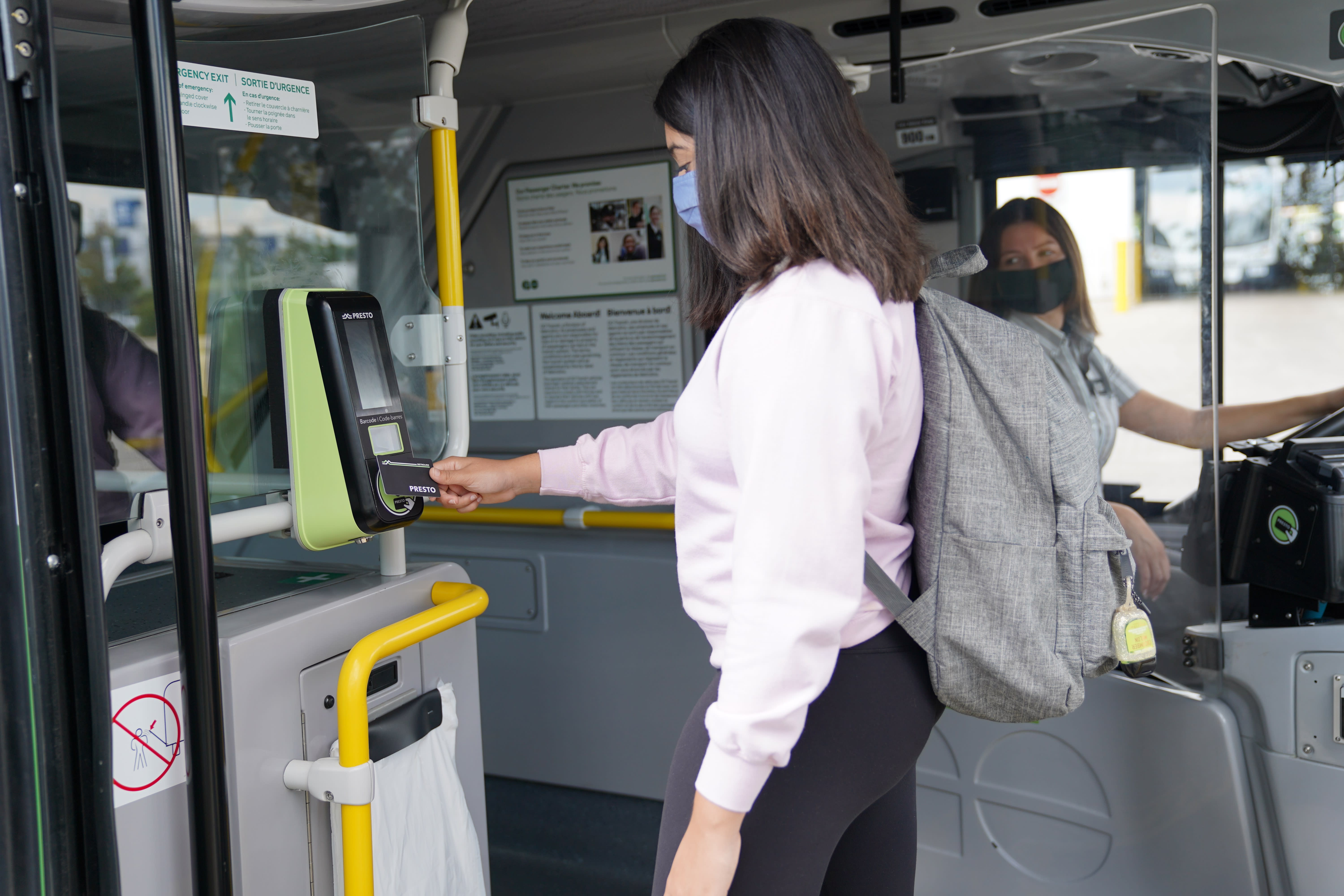 Fare Integration
Working to build a consistent approach to transit fares in the region
Metrolinx and our transit partners across the Greater Toronto and Hamilton Area (GTHA) are working towards a consistent approach to transit fares in the region.
We want to make crossing municipal boundaries and switching between transit systems simple and hassle-free.
Our vision for integrated fares across the GTHA
For customers:
A customer-focused transit system – simple, harmonized and consistent
A simplified customer experience – switching between systems is quick and hassle-free
Fares that reflect the quality and value of the services provided
For transit service providers:
Regionally integrated fare collection, products and policies
An integrated system that improves service and respects different levels of service needs, improves financial efficiencies and makes transit a more attractive option for customers
For the region:
Fares that complement existing and planned transit developments, helping to grow regional transit ridership
A fare system that improves regional economic competitiveness, encourages residents to drive less and supports smart growth
Types of Fare Structures
Around the world, transit operators use a wide variety of approaches to fares. There are countless possible fare structures which can be organized into fare structure types by looking at how they answer two questions:
Does the fare reflect the type of service?
Does the fare reflect the length of the trip?
There are numerous other ways a fare structure can be further customized. The rules applied to transfers or stopovers made during a trip can significantly affect how much that trip costs. Fares can also potentially vary depending on what time of day it is, or be capped at certain amount over a certain time period.
How Fares Work in the GTHA Today
The existing approach to fares in our region is complex, and finding a solution requires a significant amount of planning and cooperation. There are currently 11 different ways fares are determined in the GTHA, with each transit service provider setting its own rules and prices. Looking at the regional transit network as a whole — and treating the GTHA's current fragmented fare structure as if it were a single system — we can see how GTHA transit fares are influenced both by the type of service and the length of trip.
GTHA transit fares vary based on four different service categories:
Municipal (bus, streetcar, BRT, subway/RT)
Municipal premium express (TTC 140-series and YRT 300-series buses)
Regional (GO Rail and GO Bus)
Specialized airport link (UP Express)
GTHA transit fares are influenced by trip length. Depending upon which of the above four service categories a transit trip falls under, one of two different zone systems is used. This means our current system is of the "hybrid" type:
Municipal and municipal premium express service categories follow a de facto regional zone system, aligned largely with municipal boundaries
The regional and specialized airport link service categories (GO Transit and UP Express) operate with fare by zones, using a separate zone system that more precisely reflects distance travelled
Transfers in the GTHA:
In January 2018, a discounted double fare was introduced between GO and TTC
There are free transfers between municipal operators outside Toronto
As of August 2018, the TTC is introducing a time-based transfer window consistent with other local transit operators in the region