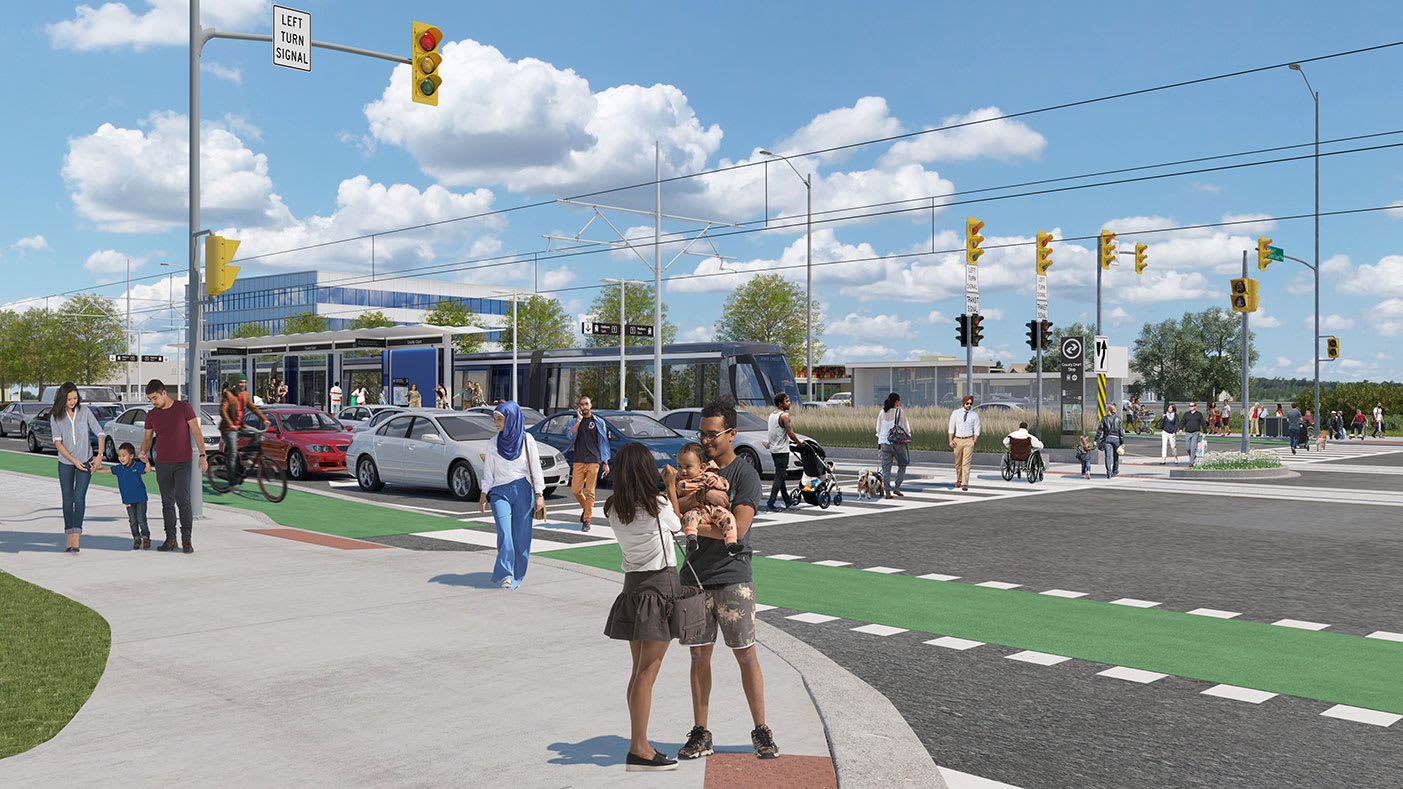 Hazel McCallion LRT
Hazel McCallion LRT
Project overview
Metrolinx is naming the Hurontario light rail transit (LRT) project as the Hazel McCallion Line, to commemorate the former Mississauga mayor.
Once in service, the 18-kilometre Hazel McCallion Line will bring a new, environmentally friendly and reliable method of transportation to a rapidly growing region. The new transit system will feature 19 stops, travel through two urban growth centres and connect to major transit systems including GO Transit (Milton and Lakeshore West lines), the Mississauga Transitway, Brampton Transit, ZUM and MiWay. The Hazel McCallion Line will operate in its own dedicated lane ensuring a smooth, reliable and convenient ride along the region's busiest street. 
As Mississauga and Brampton expands with new residents, businesses and amenities, sustainable and reliable transit becomes vital. The Hazel McCallion Line will operate with clean, electrically powered light rail vehicles, producing near zero emissions. So, not only does the LRT line get cars off the road, but it's a more sustainable, environmentally conscious way to travel! 
Key facts
| | |
| --- | --- |
| | Stations and stops including four major transit hubs |
| | Kilometers of light rail transit |
| | Transit systems and rail connections along the route |
In the news
A look back on 2022 for the Hazel McCallion Line
December 27, 2022
2022 was a remarkable year for the Hazel McCallion line which will run between Mississauga and Brampton. Work at the operations, maintenance and storage facility (OMSF) progressed significantly in 2022. The OMSF will be the hub of the new line, with vehicles travelling along Topflight Drive and over a new bridge spanning Etobicoke Creek to reach the OMSF. [Read more]
Work on Lakeshore West push box is underway
December 13, 2022
Crews building the Hazel McCallion light rail transit line have started the official push of the 'push box' underneath the Lakeshore West GO Train tracks at Port Credit GO Station using the groundbreaking Verona System. The system involves using three temporary bridges under the active tracks along with lattice and counterbalance beams to allow underpass construction to take place without impacting train operations. [Read more]
Subscribe to the e-newsletter
Subscribe to the e-newsletter
Sign up to our e-newsletter to have the latest news and updates about the project delivered to your inbox.
Land Acknowledgement
Metrolinx acknowledges that it operates on the traditional territory of Indigenous Peoples including the Anishnabeg, the Haudenosaunee and the Wendat peoples. In particular these lands are covered by 20 Treaties, and we have a responsibility to recognize and value the rights of Indigenous Nations and Peoples and conduct business in a manner that is built on the foundation of trust, respect and collaboration. Metrolinx is committed to building meaningful relationships with Indigenous Peoples, and to working towards meaningful reconciliation with the original caretakers of this land.