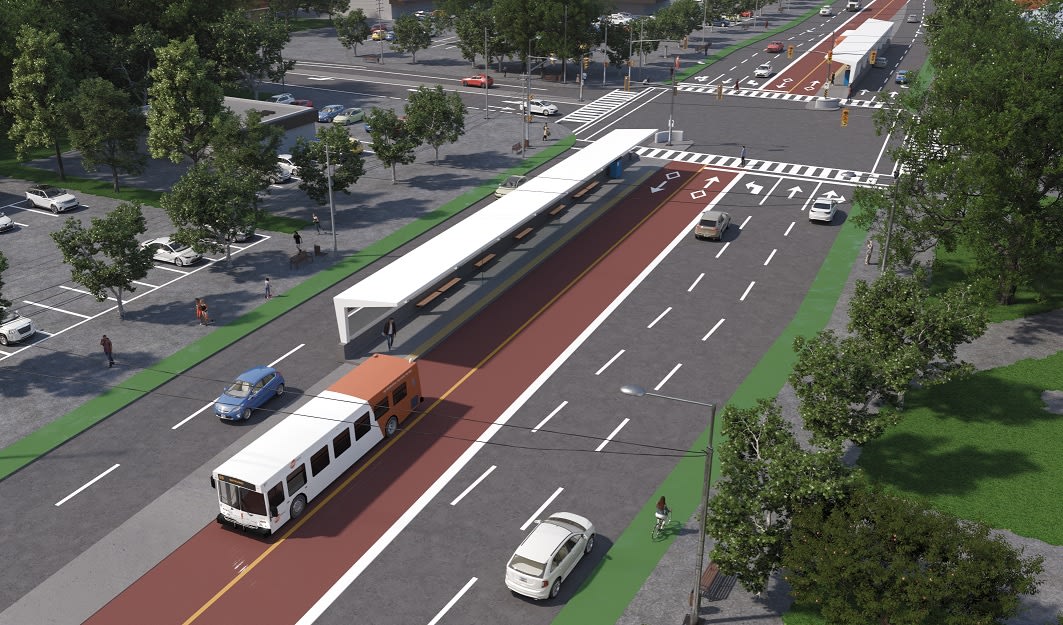 Queen Street – Highway 7 Bus Transit
Project overview
The Queen Street-Highway 7 Bus Rapid Transit (BRT) project is a proposed rapid transit line in the cities of Brampton and Vaughan. The project's study area covers a 24-kilometre corridor along Queen Street and Highway 7, which would create a crucial east-to-west transit spine connecting the northwest and northcentral sections of the Greater Toronto and Hamilton Area (GTHA).
The BRT system would include key connections to transit hubs such as the Downtown Brampton Transit Hub and Vaughan Metropolitan Centre, offering access to other regional networks such as GO Transit and TTC Line 1. It would also connect riders to the future Toronto-York Spadina Subway Extension (TYSSE).
Queen Street - Highway 7 BRT Study Area
In the news
Introducing the proposed Queen Street-Highway 7 BRT project
Jan 18, 2023
Project is in collaboration with Regions of Peel and York and the City of Brampton. [Read more]
Bus Rapid Transit could combat rising emissions and increase well-being in Brampton
Jan 25, 2023
A recent report from the Atmospheric Fund shows that carbon emissions in Brampton are back on the rise and will soon reach pre-pandemic levels. [Read more]
Land Acknowledgement
Metrolinx acknowledges that it operates on the traditional territory of Indigenous Peoples including the Anishnabeg, the Haudenosaunee and the Wendat peoples. In particular these lands are covered by 20 Treaties, and we have a responsibility to recognize and value the rights of Indigenous Nations and Peoples and conduct business in a manner that is built on the foundation of trust, respect and collaboration. Metrolinx is committed to building meaningful relationships with Indigenous Peoples, and to working towards meaningful reconciliation with the original caretakers of this land.