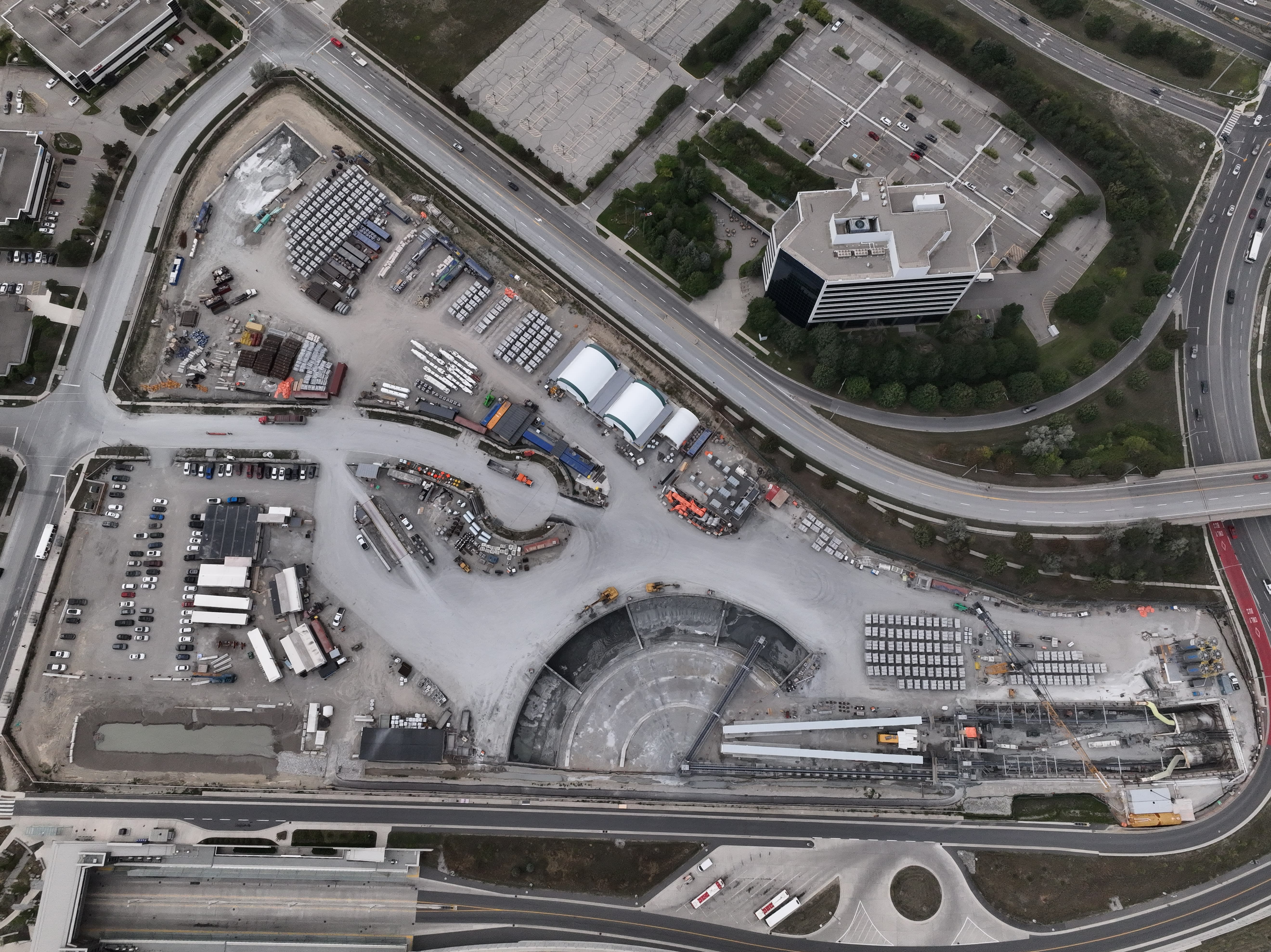 Eglinton Crosstown West Extension
Eglinton Crosstown West Extension
Overview
The Eglinton Crosstown West Extension will bring even more rapid transit to Etobicoke and Mississauga, making it easier for people to get where they need to be each day.
The extension of the Eglinton Crosstown LRT will run 9.2 kilometres from the future Mount Dennis LRT station to Renforth Drive and will operate mainly underground. Once complete, it will create a continuous rapid transit line that stretches from Scarborough, through midtown Toronto, and into Mississauga.
The extension will connect with other local and regional transit options that will make it faster and easier to get around, including UP Express and GO Transit rail services, TTC bus services, and MiWay and GO Transit bus services along the 18-km Mississauga Transitway.
Plans are also being explored with the Greater Toronto Airports Authority to extend the line to Pearson International Airport.
Construction on the project is now underway.
Key facts
Up to 10

7 from Mount Dennis to Renforth Drive
Up to 3 more for the potential link between Renforth Drive and Pearson International Airport

Connections to other transit

Five

2 regional rail services: UP Express and Kitchener GO Train
3 bus services – GO Transit, TTC and MiWay buses

Up to 13.9 km

9.2 km between Mount Dennis and Renforth Drive
4.7km for the potential link between Renforth Drive and Pearson International Airport

Improved access to transit

50,000 more people within walking distance to transit

31,000 more jobs within walking distance to transit

Yearly reduction in greenhouse gas emissions
Track the tunnel boring machines
Follow along as Renny (in the lead) and Rexy make their way from the launch site at Renforth Drive to the extraction shaft just west of Scarlett Road and Eglinton Ave. West.
In the news
Construction update on the Eglinton Crosstown West Extension
Oct. 26, 2022
The latest progress made over the last few months and what to expect along the route this fall. [Read more]
---
Tracking Eglinton Crosstown West Extension tunnelling progress
Oct. 5, 2022
Follow along as Rexy and Renny, the boring machines digging twin tunnels, make their way east. [Read more]
---
Second tunnel starts as Rexy joins Renny in tunnelling the Eglinton Crosstown West Extension
Aug. 5, 2022
Last week, Metrolinx reached another milestone for the Eglinton Crosstown West Extension with the second tunnel boring machine (known as Rexy) starting the journey from Renforth Drive to Scarlett Road. [Read more] 
---
Find more updates on Metrolinx News.
Timeline
Initial Business Case released

Environmental project report addendum finalized

Groundbreaking at tunnel launch shaft

Tunnelling begins at Renforth Drive

Requests for Proposals released - second tunnel and elevated guideway contracts
Subscribe to e-newsletter
Sign up for Eglinton Crosstown West Extension updates
Get updates about the project delivered right to your inbox. You can unsubscribe at any time.
Land Acknowledgement
Metrolinx acknowledges that it operates on the traditional territory of Indigenous Peoples including the Anishnabeg, the Haudenosaunee and the Wendat peoples. In particular these lands are covered by 20 Treaties, and we have a responsibility to recognize and value the rights of Indigenous Nations and Peoples and conduct business in a manner that is built on the foundation of trust, respect and collaboration. Metrolinx is committed to building meaningful relationships with Indigenous Peoples, and to working towards meaningful reconciliation with the original caretakers of this land.