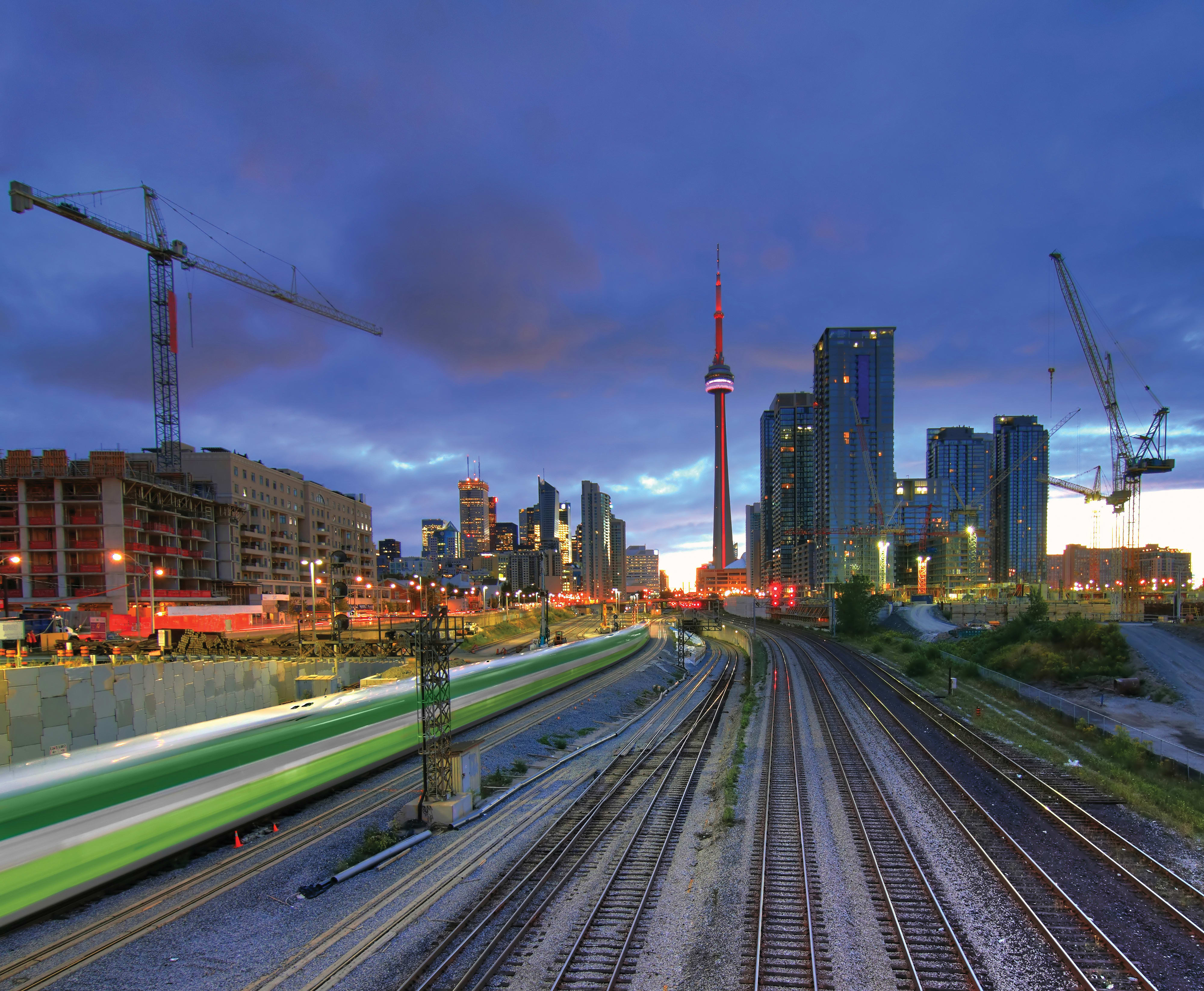 Using our Website
Last Amended:  March 6th, 2023
Welcome to the website of Metrolinx, an agency of the Government of Ontario, or one of its divisions – GO Transit or UP Express. These terms and conditions ("Terms") apply to your access to and use of any of our websites ("Website"). Please read them carefully. Each time you access the Website, you acknowledge that you have read, understood, and agree to comply with them. If you do not agree with any of these Terms, please do not use the Website. In these Terms, "we", "our", or "us" refers to Metrolinx; "you" or "your" refers to you, the user.
Metrolinx reserves the right to amend or update these Terms at any time, at Metrolinx's sole discretion. Updated or revised Terms will be posted on the Website. Please check these Terms periodically for any changes. Your use of the Website following the posting of any changes to these Terms signifies your acceptance of those changes.
When you use the Website, you agree that you will not:
disrupt or interfere with the security of, reduce the speed of, or abuse in any other way the Website, or unduly burden our infrastructure, or any services, system resources, accounts, servers, or networks connected to or accessible through the Website;
disrupt or interfere with any other user's enjoyment of the Website;
upload, post, or transmit through or on the Website any viruses, worms, Trojan viruses, spyware, adware, or other harmful, disruptive, or destructive software ("Malware");
attempt to obtain unauthorized access to the Website or portions of the Website which are restricted from general access; or
engage in any other conduct or activity that either conflicts with these Terms or that Metrolinx determines, in its sole discretion, to be in conflict with these Terms.
Metrolinx reserves the right to deny you access to or use of the Website at any time for any reason.
Information on the Website
Metrolinx makes reasonable attempts to keep the information on our Website accurate, up to date, and free from error. It is, however, provided on an "as is" basis, and we do not represent or warrant that any Material on the Website is accurate, complete, reliable, current, or error-free ("Accurate"; "Accuracy" has a corresponding meaning).
Intellectual Property Rights
Copyright
Material on the Website, including but not limited to information, articles, photographs, text, data, wallpaper, icons, images, pictures, illustrations, audio clips, video clips, surveys, artwork, graphics, music, and software (including computer code of all types) ("Material") is either owned by or licensed to Metrolinx. Metrolinx does not represent or warrant that Material does not infringe the intellectual property rights of any other person. The Material on the Website is protected by Canadian and international copyright laws and treaties. You may not reproduce, modify, download, upload, adapt, transmit, republish, sell, display, perform, distribute in any form or by any medium, decompile, extract, reverse engineer, disassemble, make compilations, create derivative works from, or use or exploit in any other way ("Use") any Material in any manner without the prior written consent of Metrolinx. Any infringement of Metrolinx's rights may result in legal action being taken against you.
Trademarks
Trademarks, tradenames, designs, logos, slogans and other marks ("Marks") displayed on the Website are the property of Metrolinx or other persons who have licensed them to Metrolinx. The display of these Marks on the Website does not imply that a license or right of any kind has been granted to you. You are not permitted to use or display any of these Marks without the prior written consent of Metrolinx or the owner of the Mark.
Third Party Links and Information
The Website may contain links, or you may be directed to websites ("Third Party Site") owned by other persons ("Third Party"), or Material belonging to or originating from Third Parties ("Third Party Content"). Links to Third Party Sites, or any Third Party Content on or made available through our Website, are provided for your convenience only. If you decide to visit any Third Party Sites or use any Third Party Content, you do so at your own risk. Third Party Sites and Third Party Content are not checked or monitored for Accuracy by Metrolinx. Metrolinx makes no representations or warranties, express or implied, relating to any Third Party Site or any Third Party Content, and disclaims any responsibility or liability for the Accuracy, relevance, non-infringement of intellectual property rights, legality, freedom from Malware, decency, or suitability of any Third Party Site or Third Party Content. Inclusion of, linking to, or permitting the use or installation of any Third Party Site or Third Party Content in or through the Website does not constitute any affiliation with or endorsement by Metrolinx of that Third Party, the Third Party Site, or the Third Party Content.
Linking to this Website
If you wish to link to the Website, you may do so, provided that, in addition to complying with
these Terms, you comply with the following requirements ("Link Conditions"):
You will not incorporate any Material into your web site (e.g., by in-lining, framing, or creating other browser or border environments around Material). You may only link to this Website by providing an underlined, textual link from your website to [www.metrolinxsiteaddress.ca]. No other link to any Metrolinx site is permitted without our prior written approval.
We prohibit unauthorized links to our Websites and the framing of any information contained on our sites, or any portion of them, without our prior written approval. You may not archive, cache, or mirror any Metrolinx Website page or portions of any Website page. Metrolinx reserves the right to disable any unauthorized links or frames.
If you link to this Website, your website may not,

imply that Metrolinx is endorsing you or your products or services, or present any false or misleading information about Metrolinx or its services;
imply any affiliation between you and Metrolinx;
offer for sale or distribute for compensation in any form Material on this Website;
use any Marks or any other words or codes identifying any Metrolinx site in any "metatag" or other information used by search engines or other information location tools to identify and select sites; or
contain any Material that is, in our sole discretion, illegal, obscene, prohibited, distasteful, or offensive.

We will have no responsibility or liability for any Material appearing on your website.
We may at any time, in our sole discretion, immediately terminate your right to link to our Website. If we do so, you must immediately remove all links to the Website.
If you establish a link to the Website, you have agreed to comply with these Link Conditions.
Google Translate Disclaimer
Google Translate is provided as a courtesy to visitors to the Website. Metrolinx assumes no responsibility for the Accuracy of the translation facilitated with this tool.
Interactive Features
To facilitate public discussion, obtain feedback on Metrolinx's services and projects, and allow the public to share Metrolinx related material they have created, this Website may provide interactive features or feedback communication tools ("Interactive Features") for use by the public. If you decide to use these Interactive Features, you agree that you will not:
advocate, encourage, commit, or cause the commission of any conduct that could constitute any criminal or quasi-criminal offence or could give rise to civil liability;
defame, abuse, harass, stalk, threaten, or bully any other person;
"dox" another person, or post any Material that includes another person's private, personal, or confidential information;
post any abusive, offensive, defamatory, hateful, racist, sexist, obscene, indecent, or unlawful material or information;
infringe, contravene, breach, misappropriate or interfere with or harm in any way the rights of any other person, including any contractual, personality, confidentiality, privacy, moral, statutory, common law, or intellectual property rights;
post spam, advertising, or any Material that you do not own or have the right to post;
impersonate any individual or organization, including any Metrolinx officer, director, employee, official, forum leader, guide, or host, or falsely state or otherwise misrepresent your affiliation with any individual or organization;
interfere with, manipulate, alter, amend, or in any way affect the Material of this Website;
upload any file that contains Malware;
offer to sell any goods or services, or conduct or forward any surveys, contests, or similar communications;
download any file posted by another user unless they have indicated it can be downloaded; or
violate any applicable local, provincial, state, national, or international law.
When communicating with Metrolinx or registering for use of any Interactive Features, you agree, if requested, to provide information about yourself that is Accurate and to keep that information Accurate. You may receive a password and account on completing a registration process or otherwise advising us of your intention to use Interactive Features. You are responsible for maintaining the confidentiality of your password and account information and for all activities that occur under your password or account. You will not allow another person to post from your account or on your behalf. You agree to immediately notify Metrolinx of any unauthorized use of your password or account or any other breach of security. You will also ensure that you exit from at the end of each session.
Interactive Features and all postings on or through them are public and non-confidential. They may not be moderated or monitored by Metrolinx. All Material posted by a user through Interactive Features ("User Content") is the sole responsibility of the person that posted it. You are solely responsible for your own User Content and the consequences of submitting it, and for your use of User Content posted by other persons. Metrolinx does not endorse any User Content or any opinion, recommendation, or advice expressed in it.
Metrolinx is under no obligation to publish your User Content or to keep it accessible. We reserve the right to remove at any time, for any reason, any User Content. We also reserve the right to deny you access to Interactive Features at any time, for any reason.
You agree that you own or have the necessary rights to submit your User Content through Interactive Features. By using Interactive Features or submitting any User Content to Metrolinx, you will continue to own or have the rights to your User Content, but you automatically grant, or agree that the owner of the content grants Metrolinx a world-wide, perpetual, royalty-free, irrevocable, sublicenseable, transferable, nonexclusive license to Use your User Content, and you waive any moral rights you have in the User Content. You also acknowledge each user of Interactive Features or the Website has the right to access and use your User Content as set out in these Terms. We may remove at any time any User Content if we believe that it may infringe on another person's intellectual property rights.
You give Metrolinx permission to publish your username or the name you used to register in any Interactive Features in connection with User Content you submitted. You also give Metrolinx permission to contact you by email or other means you have provided in connection with any User Content you have submitted.
Terms relating to Metrolinx's protection and use of your personal information can be found below.
Suggestions You Provide to Metrolinx
Any feedback, ideas, suggestions, or comments ("Suggestions") you submit to Metrolinx relating to the Website or our business, services, or projects will be considered non-confidential and will become the property of Metrolinx. By submitting any Suggestion to Metrolinx, you are waiving any and all rights, including moral rights, that you may have in it, and to any invention, concept, technique, or "know how" in it. Metrolinx will be entitled to Use the Suggestion for any purpose without any obligation to you.
Use of Surveys, Polls
At times Metrolinx may request information from you via surveys or polls. Participation in these is completely voluntary. When we conduct the survey, we will let you know how we intend to use the information collected. If you choose not to participate in surveys or polls, you will still be able to use the Website.
Contests
Metrolinx may occasionally run contests that offer prizes and that will require you to provide us with your personal information if you wish to enter them. You must read and agree to all rules that apply to a contest before entering it. By entering any contest, you acknowledge that you have read and agree to its rules.
Privacy
You acknowledge that you have read and agree to the Metrolinx Privacy Policy, which is available at https://www.metrolinx.com/en/privacy-policy.
Metrolinx values and respects your privacy and is committed to protecting your personal information by keeping it confidential and secure. Metrolinx's collection and retention of your personal information is governed by the terms of the Freedom of Information and Protection of Privacy Act, R.S.O. 1990, and other relevant legislation.
In general, you may visit the Website without telling us who you are or revealing any personal information about yourself. If you choose to, for example, send a question to Metrolinx, submit a Suggestion, or enter a contest, we may ask you to provide your name, phone number, mailing address, or email address so that we can interact with you, but we will not use that information for other purposes unless we first ask for and receive your consent to do so.
You do acknowledge, though, that the internet is not a secure means of communication, and the privacy of your interactions with Metrolinx cannot be guaranteed. The nature of internet communications means that your use of the Website and communications to Metrolinx, either through the Website, email or otherwise, may be susceptible to data corruption, unauthorized access, interception, or delays.
Questions about how Metrolinx collects and uses your personal information can be directed to: Senior Privacy Officer, Metrolinx, 97 Front Street West, 2nd Floor, Toronto, Ontario, M5J 1E6 (416) 202-5997.
Cookies
What is a Cookie?
When you visit a Website, small data files called "cookies" are sent to your computer. A cookie is a small data file that contains the interaction between the website and your web browser (ex: Internet Explorer, Edge, Chrome, Firefox, Safari).Cookies are generally used to improve the user experience while navigating a Website.
There are two types of cookies:
Persistent cookies: Cookies that are stored on your computer but will expire after a specified expiration date or if you delete them.

 

Persistent cookies identify your browser and IP (Internet Protocol) address, but do not collect personal information such as your name and address.
Session cookies: Facilitate a user's use and navigation of a websites.

 

Session cookies expire when the browser is closed.
Why Metrolinx Uses Cookies:
Metrolinx uses cookies to improve and streamline digital service performance and user experience. Metrolinx may use either, or both, types of cookies.
First, Second, & Third-Party Cookies
Metrolinx might integrate our website services with other service providers who are required to maintain the confidentiality of Metrolinx's data and information. The cookies which are generated during the transaction between Metrolinx's website and the user are called first-party cookies and second-party cookies. Third-party cookies are created by Metrolinx's service providers and might be passed along to them while using our website. Some of these cookies are essential to the functioning of the website. They provide us with information like how well the site is functioning or allow tracking for advertising purposes.
How Do We Use Cookie Data?
Metrolinx uses cookie data to understand your needs and to provide you with better service, for the following reasons:
First & Second Party Cookies: Cookies set by Metrolinx or by a second/third party on behalf of Metrolinx

Strictly Necessary: These cookies are set by Metrolinx or a first/second party on our behalf, and are essential to enable you to use the basic features of our websites, such as technically delivered content, setting your privacy preferences, logging in, etc.
Functional: These cookies allow our websites to remember choices you make (such as your username, language or the region you are in) and provide enhanced, more personal features and content. These cookies can also be used to remember changes you have made to text size, fonts and other parts of web pages that you can customize. If you do not allow these cookies, then some or all services may not function properly.
Performance: These cookies gather data about how visitors use our websites to enhance the performance of our websites and services. Performance cookies such as Google Analytics, Google Optimize, and Hotjar, help us understand website traffic and popular pages. Performance cookies enable Metrolinx and/or second/third parties to measure and improve the performance of our websites' products and services. If you do not allow these cookies, we will not be able to monitor the performance of our products and services.

Third Party Cookies: Cookies that are set by a third party or set by Metrolinx at the request of a third party

Analytics: Metrolinx uses web analytics services such as Google Analytics and Exponea to assist us in improving customer experience. These services use cookies to collect and generate information about your visits to the Website (including your IP address) that is transmitted in an anonymous form for processing. Metrolinx does not monetize your information to third parties, nor do we track your interaction with a third-party website.
Advertising: Metrolinx may use third party cookies for the following advertising purposes:

S

elect personalized ads - personalized ads can be shown to website users based on a user profile or other historical user data

Create a personalized ads profile - a profile can be built about users and their interests to show users relevant personalized ads

Select basic ads - ads can be shown using real-time information about the context in which the ad will be shown, such as the content users viewing, approximate location, or device type etc.
Can I Disable Cookies?
Yes, for more information on how to disable cookies from your browser, follow the link for your browser below:
You can opt out of analytics activity by setting your browser to refuse to accept cookies from the Website. Some browsers can be set to accept all cookies, reject all cookies, or notify you when you receive cookies. If you choose to modify your browser, some features of the Website may not function properly. Please consult your browser's help function for instructions.
To opt out of Google Analytics, download the Google Analytics Opt-out Browser Add-on here: https://tools.google.com/dlpage/gaoptout.For more information about Google Analytics, please visit the Google Privacy page.
If you have additional questions regarding how Metrolinx manages cookie data, or any other cookie related questions, please contact us here.
Exclusion And Disclaimer Of Warranties
The Website is provided on an "as is" and "as available" basis. Metrolinx makes no representation or warranty of any kind, whether express or implied, written or oral, statutory or otherwise, including: (i) warranties as to uninterrupted or error free communication or Website performance; (ii) Accuracy of information or results obtained from any Use of Material, Third Party Content, or User Content provided on the Website ("Content"); or (iii) merchantability, quality, title, durability, suitability, non-infringement, fitness for a particular purpose, or those arising out of a course of dealing or usage of trade, or any warranties respecting title, non-infringement, or quality of Content. These exclusions are in addition to any specific exclusion set out in in these Terms. Metrolinx does not represent or warrant that any errors or omissions on or relating to the Website will be corrected or that any server from which the Website is operated is or will be free from Malware.
Your Use of the Website, Interactive Features, Content, or access to or Use of Third Party Sites is entirely at your own risk. Metrolinx is not responsible for any reliance you may place on them. Content provided on our Website is for informational purposes only and is not intended to provide advice or recommendations of any kind, including travel, financial, investment, legal, tax, accounting, or other advice.
Limitation Of Liability
Metrolinx will not be liable to you or to any other person for any damages, liabilities, losses, costs, expenses, injuries, or death ("Losses") suffered in connection with or in any way relating to or resulting from your authorized or unauthorized access to or Use of, or inability to access or Use, the Website, Interactive Features, Content, Third Party Sites, or Marks. We will not be liable to you or any other person for any direct, indirect, special, incidental, exemplary, punitive, or consequential damages (including loss of business, revenue, profits, savings, use, data or economic advantage), whether arising in contract, tort (including negligence), equity, or otherwise, and regardless of how they may arise even if Metrolinx or its Representatives have been advised of the possibility or could have foreseen such damages.
Metrolinx will not be liable to you or any other person for Losses resulting from Malware, data corruption, communication interception, work delays, failed messages, failed transactions, failed requests, or other issues caused by transmission errors or problems, telecommunications service providers, Metrolinx's Representatives, suppliers of products or services, damage caused by you or your Representatives, events beyond Metrolinx's control, or other causes. You are responsible for ensuring that the data, hardware, and software you use in connection with your use of the Website, Interactive Features, Content or Third-Party Sites is adequately protected (including against Malware).
Indemnification
You agree that your use of the Website, Interactive Features, Content, and your access to or Use of any Third Party Sites will not be made the basis for any claim, demand, or any legal action, application, or other proceeding ("Claim") against Metrolinx or its officers, directors, employees, contractors, agents, or other representatives ("Representatives"). You agree that you will, at your own expense, indemnify and hold harmless Metrolinx and its Representatives against any Claim brought or threatened by any person as a result of (i) your breach of these Terms; or (ii) your Use of the Website, Content or your access or Use of any Third-Party Site.
Accessibility
Metrolinx is committed to ensuring that information about our services is accessible in accordance with the Accessibility for Ontarians with Disabilities Act, S.O. 2005, c. 11. If you require a Metrolinx document in an alternate format or are in need of communications support, please submit a request through our online contact form, or by calling us at one of our telephone numbers below:
416-869-3200 - Toronto local calling area
1-888-438-6646 - Toll-Free Number
1-800-387-3652 - TTY teletypewriters only
Once your request is received, Metrolinx will contact you to provide you with additional information on when you can expect a response, based on the document and format you are requesting.
Applicable Law
Metrolinx is an agency of the Government of Ontario formed under the Metrolinx Act, 2006, S.O. 2006, c. 16, and is a Crown Agency under the Crown Agency Act, R.S.O. 1990, c. C.48. The Website is controlled and operated in the Province of Ontario, Canada by Metrolinx. Your use of the Website and Content, and these Terms, will be governed and interpreted in accordance with the laws of the Province of Ontario and the applicable federal laws of Canada. Metrolinx does not make any representation that the Content or any goods or services offered through the Website comply with legal or regulatory requirements of countries other than Canada. When you access and Use the Website, Content, or Third-Party Sites, you do so at your own risk, and you are responsible for complying with your local laws. You acknowledge that you are at least 18 years old and have full legal capacity to use the Website. Some jurisdictions may have restrictions on the use of the internet by their residents. If your country prohibits access to or Use of to make the Website or Content, to you or generally (whether because of nationality, residence, or other reason), the Website is not directed at you. In addition to complying with these Terms, you agree to access and Use the Website and Content for lawful purposes only and in a manner consistent with local, national, and international laws and regulations.
Entire Agreement
Subject to any other agreement you may have entered into with us, these Terms and any other notices or statements posted on the Website are the entire agreement between you and Metrolinx relating to your access to and Use of the Website, including the Content, and replaces any other communications about them, in any form, between you and Metrolinx.
Additional Terms and Conditions
You acknowledge and agree that any goods or services described in or obtainable through our Website, whether Metrolinx's or any Third Party's, are subject to additional terms and conditions including terms and conditions respecting availability of and payment for goods, or services, and you agree that you will also comply with those terms and conditions.
[English] [French] Language
It is the express wish of the parties that these Terms of Use be drafted in English. Les parties aux présentes ont expressément demandé que ces modalités d'utilisation du site web soient rédigés en anglais.
Who Do I Contact about these Terms, or www.metrolinx.com?
If you have any questions or comments about these Terms, or anything on the Website, please contact us here.
Interpretation
"Including" means "including, but not limited to", and "include" or "includes" has a similar meaning.
"Representation" means a statement of fact at the time it is made.
"Warranty" means a promise relating to a future event.
Website Frequently Asked Questions (FAQs)
A: The Website Terms and Conditions set the contractual relationship between Metrolinx and our Website users, like you, for use of the Website. The Terms and Conditions set out rules for the way in which users like you are able to access and use the Website. You are required to follow these terms if you choose to access any Metrolinx websites.
Metrolinx Act
Metrolinx is a provincial Crown corporation responsible for planning, constructing and improving public transit in the Greater Toronto and Hamilton Area. Metrolinx (formerly the Greater Toronto Transportation Authority) was continued in 2006 by the Metrolinx Act. The Metrolinx Act sets out the structure, goals, powers and responsibilities of the corporation.
The Metrolinx Act, 2006 is available on the Government of Ontario's e-laws website.
By-Laws
| | |
| --- | --- |
| Metrolinx Act, 2006, S.O. 2006, c.16 | |
| | |
| | |
| | Appointment of Provincial Offences Officers |
| | Control of Vehicular traffic |
| | Alternative Dispute Resolution Program for Contravention of Certain Parking and Fare By-laws |
| | GO Transit Customer Experience Advisory Committee of the Corporation |
| | Voluntary Payment of Parking Penalties |
| | Voluntary Payment of Penalties Related to the Use of Vehicles on Corporation Property |
French Language Services
As a government agency operating under the principles of the French Language Services Act (FLSA), Metrolinx and its operating divisions (GO Transit, PRESTO, UP Express) are committed to ensuring the availability of quality system-wide services in French.
What is the French Language Services Act (FLSA)?
The French Language Services Act R.S.O. 1990 is a law that guarantees an individual's right to receive services in French from the Government of Ontario's ministries and agencies and at government head offices in 26 designated areas.
What Services are Offered in English and French?
Metrolinx currently provides the following in both English and French:
Customer service via our customer contact centre
Printed train and bus schedules.
Easily accessible information such as fares, news, bulletins, etc., via Metrolinx.com and divisional websites.
Dynamic signage at stations and terminals.
Social media accounts on Twitter, Facebook, and Instagram.
Email subscriptions to On the GO Alerts.
Get in Touch
For any questions regarding French Language Services at Metrolinx, please contact frenchlanguageservices@metrolinx.com
Social Media Code of Conduct
Metrolinx welcomes and encourages participation and open conversation on our social media pages or channels (including Facebook, Twitter, Instagram, or YouTube), and we look forward to reading your comments, stories, discussions, and experiences related to our programs and services. By accessing, using, and interacting with Metrolinx or other users on a Metrolinx social media channel you agree to comply with this Code, as amended from time to time.
Commenting and Interacting
Metrolinx is committed to fostering open and respectful discussions of our programs and services on our social media channels and we reserve the right to review, moderate, edit, or remove content that violates this Code.
Be respectful of all other social media users, including Metrolinx, its management, and employees.
Comply with the legal requirements and rules or guidelines of the social media channel.
Stay on topic, keep the conversation relevant, and contribute to the dialogue.
As a user of a Metrolinx social media channel, you agree that you will not message, post, share, or distribute content that:
is abusive, threatening, harassing, defamatory, vulgar, obscene, inappropriate, or objectionable;
could incite hatred, racism, sexism, discrimination, or violence of any kind against any individual or group based on race, ethnic origin, religion, sexual orientation or any other protected ground under the Ontario Human Rights Code;
breaks the law or encourages others to do so;
contains personal or confidential data or information of any person (including phone numbers, email or home addresses, or other contact information);
includes an image of any person, whether strangers, friends or family, without first obtaining their consent;
impersonates or falsely claims to represent or be associated with another individual or organization; or
is posted for advertising, promotional, or solicitation purposes, including commercial endorsements or unsolicited electronic messages (spam).
Comments, opinions, and other content submitted by a user on a Metrolinx social media channel are those of the user only and do not represent or reflect the views or opinions of Metrolinx, its management, or employees. Metrolinx is not responsible for, and disclaims any and all liability for any content submitted by users of the Metrolinx social media channels.
A user who does not comply with this Code may be banned from further participation on the Metrolinx social media channels.
Links to Other Websites
A Metrolinx social media post or channel may display links to other websites. Metrolinx is not responsible for any information on these websites, and we do not review, endorse, or approve any of these sites or their content. Your access to and use of these websites is at your own risk.
Metrolinx Engagement With Users
Metrolinx may interact (for example by "following", "liking", "re-tweeting", or "subscribing") with a user. Any form of recognition, communication, or engagement by Metrolinx with a user does not imply an endorsement or approval of any kind by Metrolinx.
When you submit or post content to a Metrolinx social media channel, you are granting us a non-exclusive, irrevocable, worldwide, royalty free right to reproduce your post (including any images, sound recordings, or other content in that post ("Social Media Content")), together with your username and profile picture for attribution purposes, in any manner and in any medium, for our own business purposes, including advertising and promotional purposes. Metrolinx may use, store, access, display, copy, reformat, publish, distribute, transmit, stream, broadcast, create derivative works from, combine with other materials, alter, edit or use or exploit your Social Media Content in any manner in Metrolinx's sole discretion, with no obligation to you, and you waive any moral rights you have in it. You represent that to you own or have the permission and authority to post your Social Media Content and grant the above rights to us.
You must never post any Social Media Content that violates anyone else's rights, including privacy, publicity, intellectual property, or other proprietary rights.
Availability
Metrolinx recognizes that social media channels allow for 24/7 communication, and your interactions are welcome at any time. We may, however, only read or respond to comments, messages, or content posted by users during our business hours.
Social media channels may periodically be unavailable. Metrolinx is not responsible for any lack of service due to a social media channel being down.
No Warranty or Liability
Use of any Metrolinx social media channel is at your own risk. Metrolinx social media channels and their content are provided on an "as is" basis. We do not make, and expressly disclaim, any representation or warranty, of any kind as to their suitability for use. Metrolinx will not be liable for any damages arising from your use of Metrolinx social media channels.
Privacy Policy and Personal Information
As required by Section 39(2) of the Freedom of Information and Protection of Privacy Act, this is Metrolinx's notice to you that by agreeing to comply with this Code, any personal information you submit will be collected for the purpose of using your Social Media Content on our social channels or in our digital or analog documents and in order to document your consent to this use. Questions about this collection should be addressed to:
Metrolinx
Attention: Digital Marketing
97 Front Street West
Toronto, ON
M5J 1E6
digitalmarketingrequests@metrolinx.com
Metrolinx will only use personal information we receive from you for the use of your Social Media Content in accordance with this Code, our Privacy Policy, and the Freedom of Information and Protection of Privacy Act.
You agree and consent to the collection, use, disclosure, transfer, and processing by Metrolinx of any personal information you provide with respect to the use of your Social Media Content as described in this Code and in accordance with Metrolinx's Privacy Policy and any applicable data protection laws and regulations. Please note that your personal information may be transferred to servers located outside of your country of residence or to trusted third parties that may process your personal data on behalf of Metrolinx.
If you do not agree with the collection, use, disclosure, transfer, and processing of your personal information in this way, Metrolinx will conclude that you do not agree to this Code, and we ask that you do not provide us with any of your personal information.
Applicable Law
This Code, the use of any Metrolinx social media channel, and all related matters will be governed by and interpreted under the laws of the Province of Ontario and applicable laws of Canada. This Code is also subject to applicable terms from Metrolinx's Website Terms.