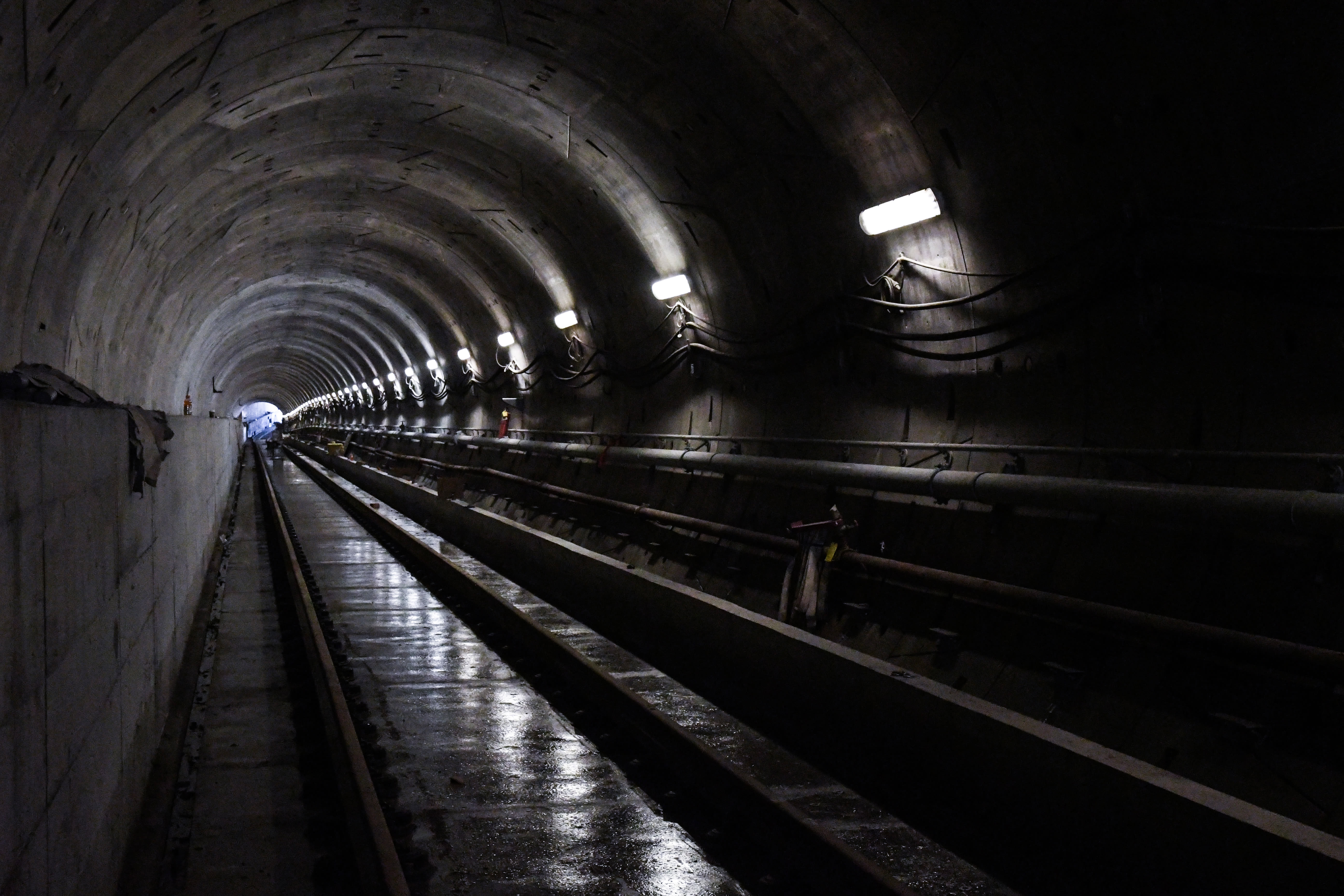 Overview
Building tunnels in large and busy urban areas is a complex job. It's one of the topics we're asked about the most as we add dozens of kilometres of new underground transit to the regional transportation network.
The tunnels that carry underground transit routes are built to accommodate the trains that will travel through them, a flat concrete surface at the bottom for the tracks, a safety walkway that can also be used for maintenance access and emergency evacuations, and systems for power, signalling, lighting and communications.
In the Greater Toronto Area (GTA), experts need to consider a wide array of ground conditions when deciding which tunnelling methods are best suited to a project. Everything from sand, clay and silt to boulders and bedrock can be found underground, and each of these materials has different ground water and soil stability considerations.
The information below provides an overview of modern tunnelling methods Metrolinx and industry partners use to build new transit. While there is already a wealth of information about tunnelling available online, these topics may serve as a helpful starting point for further exploration.
Tunnel boring
Tunnel boring has proven to be an efficient, safe and reliable way to dig new tunnels for transit lines in built-up areas and it is being used to build Metrolinx projects like the Eglinton Crosstown LRT, the Eglinton Crosstown West Extension, the Scarborough Subway Extension, the Yonge North Subway Extension, and the Ontario Line. This method relies on tunnel boring machines – or TBMs, for short – which tunnel under existing structures and roadways. These machines can be as long as a football field and have a rotating cutter head at the front end that carefully digs through the earth.
Each tunnel boring machine is custom built for the job it is needed for. The size, type of cutter head and other engineering details are chosen based on each project's needs and customized for the ground conditions the machines are expected to encounter as they carve out the route of a new transit line.
Tunnelling under existing structures — big or small — is how subways are built in the GTA and cities all over the world. Modern tunnel boring machines adapt to all kinds of underground conditions, like densely packed soil, rock or areas with high water pressure. Earth pressure balance technology built into the tunnel boring machine helps it make those transitions smoothly. The pressure applied by the TBM can be controlled to match the combined pressure of the earth and water being excavated. This helps keep the ground stable as the machines work deep below the homes, buildings and roads at the surface.
Excavated soils and rock (referred to as muck) are removed by a system of conveyors from inside the tunnel boring machine and transported back to the surface to be hauled away and properly disposed.
As the tunnel is being dug out, the tunnel boring machine uses a built-in mechanical device called a segment erector to install pre-cast reinforced concrete liner panels (called segments) to form the tunnel walls. Each segment is fastened into place, and cement grout is injected behind them to form sturdy rings. The machine moves itself forward with hydraulic jacks to push off of the newly installed segment ring.
Sequential excavation method
While long stretches of tunnel are often created using tunnel boring machines, some smaller sections are created by using a technique called sequential excavation method, or SEM. This method is often used to create other underground structures that connect with tunnels, such as stations, and in places where other utility lines or tunnels already exist and would be too difficult to relocate to accommodate large tunnel boring machines.
This method takes advantage of the natural strength of the surrounding rock or soil to stabilize and support the tunnel. The tunnel area is divided into small underground sections, which are dug out in a specific order using excavators or roadheaders, beginning with the sections closest to the surface. As sections are excavated, concrete is sprayed onto the exposed tunnel walls to reinforce them.
In the end, crews install large, curved tunnel liners made of concrete around the entire excavated area.
Cut and cover
The cut-and-cover method was used to build the initial stretches of Toronto's first subway lines. It involves digging a trench from the surface, forming the walls, and covering it once the tunnelling work is complete.
Today, cut and cover is typically reserved for building relatively shallow tunnels where there is more open space at the surface, and most often in areas where tunnels transition into stations.
Building with the cut-and-cover method involves digging shallow trenches around the perimeter of the future station and filling them with poured concrete or pre-cast concrete panels to create guide walls. The space between the guide walls is then excavated down to the desired depth. Once a new concrete foundation is in place at the bottom of the excavation, walls and structural columns are built from the bottom toward the surface.
Building inspections
Safety is at the centre of everything we do at Metrolinx, which is why we take an extra cautious approach to tunnelling.
Before and after tunnelling, Metrolinx will request the permission of property owners along the transit route to thoroughly assess the condition of the interior and exterior of homes and buildings, at no cost to the owner.
During tunnelling work, Metrolinx continuously monitors above-ground conditions, making any adjustments necessary to avoid effects at the surface.
Managing noise and vibration from new transit service
Before any new subway service begins, Metrolinx uses a wide array of proven technology, including floating slab track and continuously welded rails, to effectively deal with noise and vibration from passing subway trains.
Noise and vibration are created where the train wheels pass over the tracks and the modern technology Metrolinx uses reduces noises and vibration created at the source.
The technology used from one project to another is based on the findings of detailed environmental studies and consultations with communities to make sure the right solutions are in place. The goal is always to make sure there are no significant differences between noise and vibration levels experienced by communities today and what will be experienced when a new transit line is up and running.
Find out more
Read more about tunnelling work on Metrolinx News.
If you have questions about tunnelling on a Metrolinx project being built close to you, please reach out to the Community Relations team in your area: