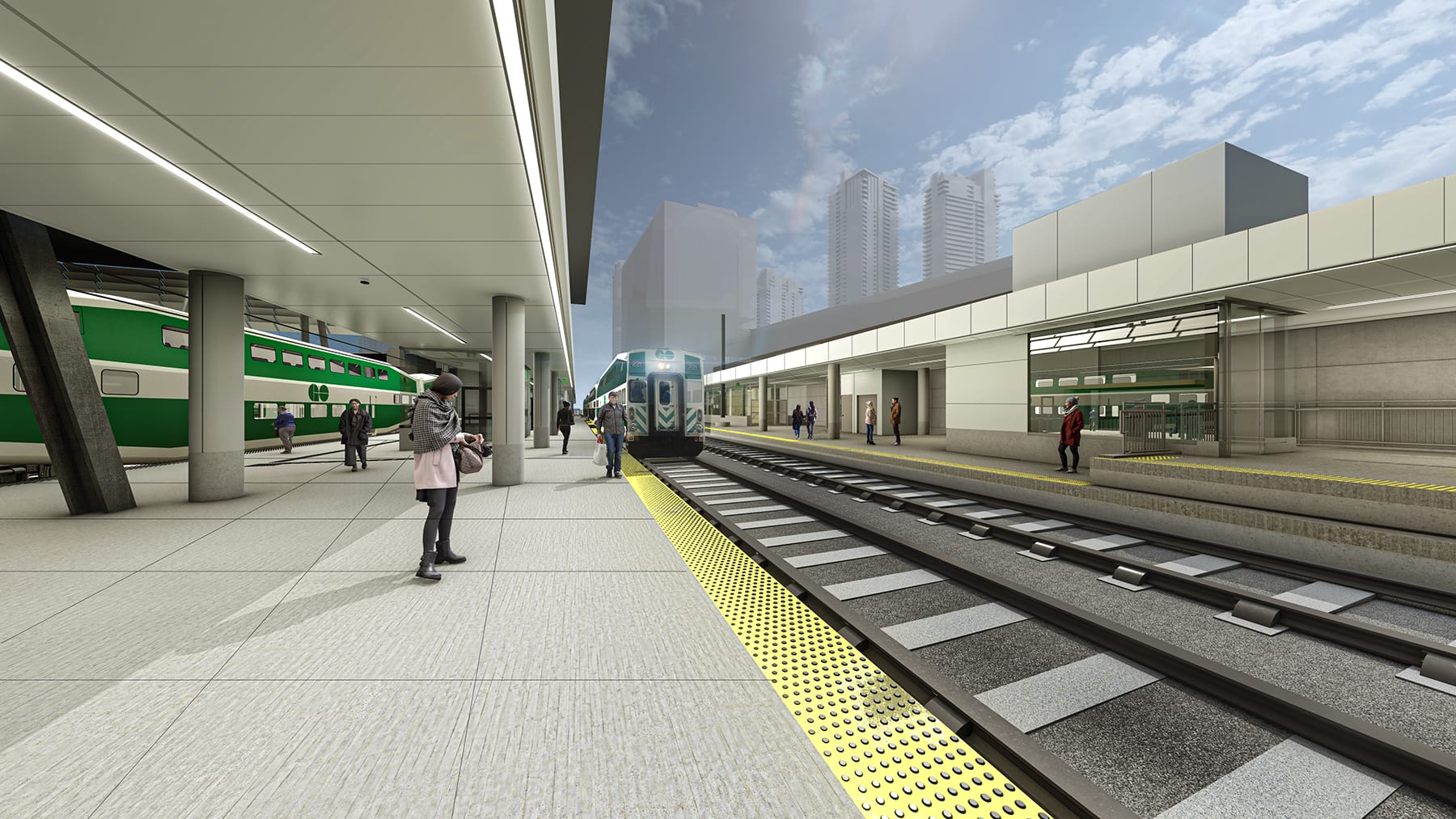 Union Station
A better experience at the centre of our network
A new Union Station is coming. A station that is more accessible and easier to navigate with wider platforms and less crowding. Union Station is the gateway to the region and is undergoing modernization while preserving heritage features to meet transit needs now, and in the future. All this to expand capacity and run more trains through the largest transit hub in the GO rail system and bring frequent, all-day, transit on core segments of the network.
This is the Union Station of tomorrow. The heart of the GO network, connecting Toronto to every part of the Greater Golden Horseshoe. And it's happening right now.
Project overview
Union Station and the adjacent rail corridor are known collectively as the Union Station rail corridor (USRC). The USRC is 6.4 km long and consists of a complex network of tracks, passenger platforms and four control towers at Cherry Street, Scott Street, John Street and Bathurst Street. It has 14 station tracks with platform access, and more than 180 signals, 250 switch machines, 40 km of circuited track and all associated infrastructure.
There are multiple projects underway at Union Station - all working toward the same goal - preparing the Union Station Rail Corridor for GO Expansion service levels.
Find out more about what we're building in your community.
Benefits
There's so much to love about this multi-pronged project. We're connecting new concourses to new access points across GO Train platforms. It's all building a better transit experience, as we work to build a regional transit network that empowers GTHA residents to live, work, and play anywhere.
In the news
Major construction starts on new south passenger concourse at Union Station
December 15, 2022
Piling work has started at Union Station as part of the Union Station Enhancement Project (USEP). These piles will form the foundation for the future south concourse that will seamlessly connect customers between Bay and York Streets. [Read More]
---
Toronto's Union Station Enhancement Project kicks off
February 16, 2022
Shovels are scheduled to break ground on the next phase of renovation at Toronto's historic station. The completion of platform work signals the start of the Union Station Enhancement Project. [Read More]
---
Find more updates on Metrolinx News.
Subscribe to e-newsletter
Sign up for regional updates
Subscribe for the latest news from Metrolinx. You can unsubscribe at anytime.
Connect with us on social