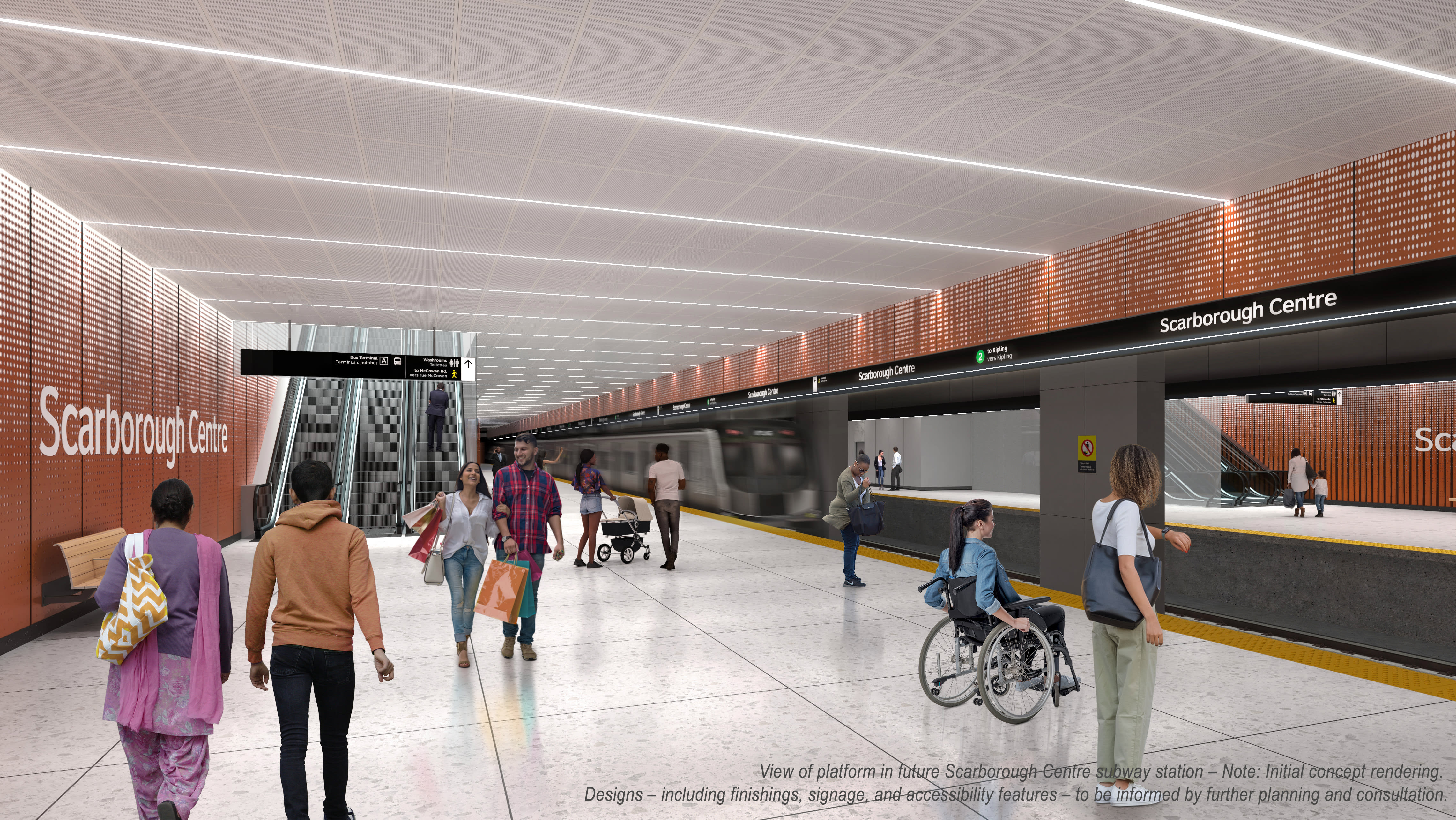 Scarborough Subway Extension
Extending Line 2 subway service 7.8 km farther into the heart of Scarborough.
Scarborough Subway Extension
Overview
The Scarborough Subway Extension will bring the TTC's Line 2 subway service nearly eight kilometres farther into Scarborough.
It will extend from Kennedy Station to Sheppard Avenue and McCowan Road, providing quick and seamless transit for those heading into and out of the downtown core and those travelling within Scarborough. The extension will replace Line 3 (the Scarborough RT), helping to reduce travel times and improve access to jobs, schools and other key destinations throughout the city.
Key facts
Connections to other transit options

Up to six

One GO Train line - Stoufville
Up to two local rapid transit lines - Line 5 (Eglinton Crosstown); planned connection to future Sheppard Subway Extension
Three bus services - GO Transit, Durham Region Transit and TTC buses

52,000 daily boarding by new users

Improved access to transit

38,000 more people within walking distance to transit

34,000 more jobs within walking distance to transit

Yearly reductions in greenhouse gas emissions
In the news
Tunnelling begins on Scarborough Subway Extension
Jan. 18, 2023
Tunnelling is officially underway on Scarborough's 7.8-km subway extension. [Read more]
---
Partner selected for Scarborough Subway Extension stations
Dec. 5, 2022
Development partner selected to help design remaining parts of 7.8-km subway extension. [Read more]
---
Part of Eglinton to be realigned for Scarborough Subway work
Aug. 14, 2022
Metrolinx keeps people moving at Eglinton & Midland during Scarborough Subway Extension construction. [Read more]
---
Find more updates on Metrolinx News.
Milestones
Preliminary Design Business Case released

Procurement begins for tunnelling contract

Groundbreaking at launch shaft site

Procurement begins for stations, rail and systems contract

Development partner selected for stations, rail and systems contract
Subscribe to e-newsletter
Sign up for Scarborough Subway Extension updates
Get updates about the project delivered right to your inbox. You can unsubscribe at any time.
Land Acknowledgement
Metrolinx acknowledges that it operates on the traditional territory of Indigenous Peoples including the Anishnabeg, the Haudenosaunee and the Wendat peoples. In particular these lands are covered by 20 Treaties, and we have a responsibility to recognize and value the rights of Indigenous Nations and Peoples and conduct business in a manner that is built on the foundation of trust, respect and collaboration. Metrolinx is committed to building meaningful relationships with Indigenous Peoples, and to working towards meaningful reconciliation with the original caretakers of this land.