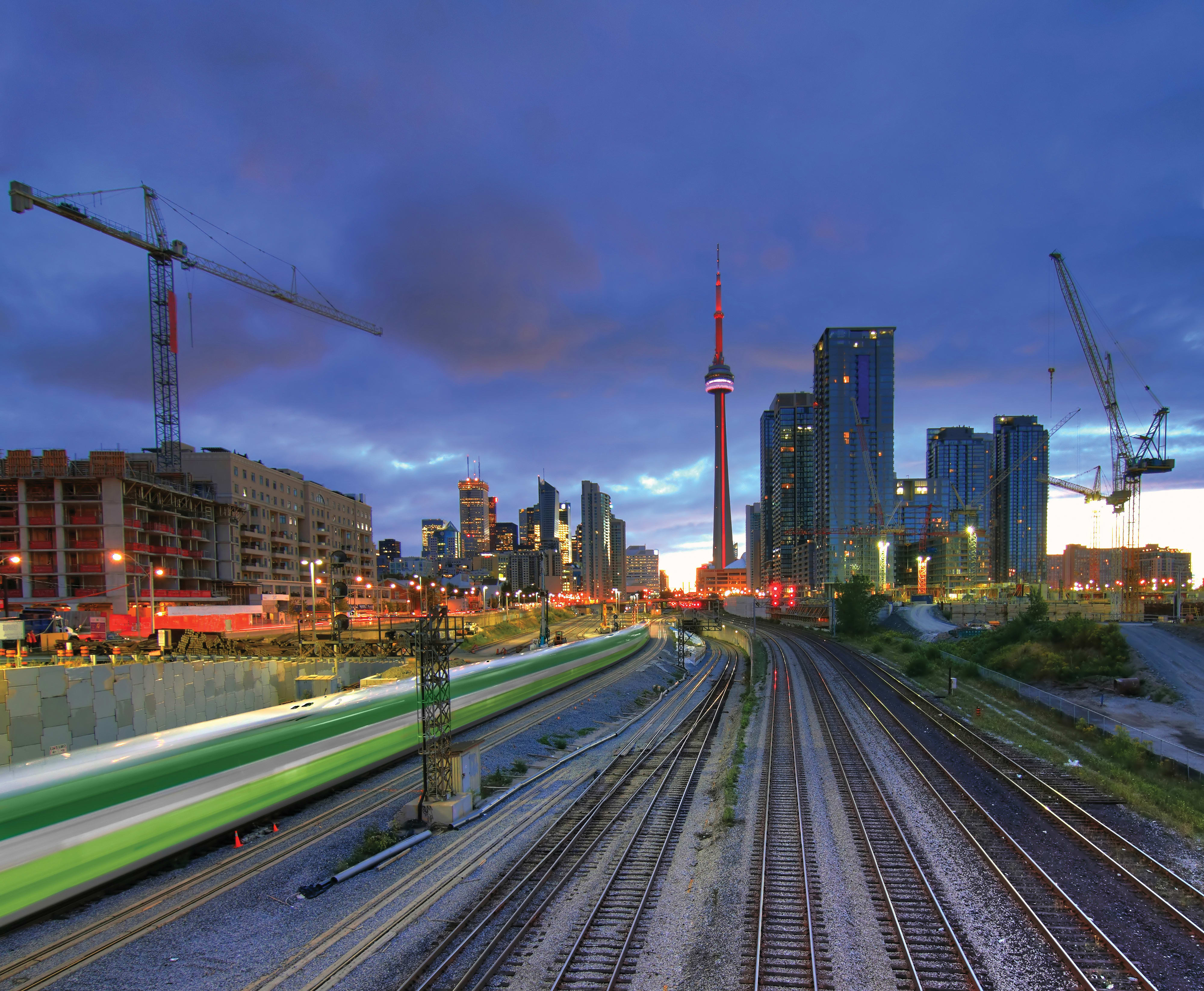 Our Commitment to Your Privacy
Metrolinx is committed to maintaining the accuracy, security and privacy of the personal information we collect and use, in accordance with the Freedom of Information and Protection of Privacy Act. In order to meet this commitment, we have developed and adhere to this Privacy Policy. This Privacy Policy applies to the business and activities of Metrolinx and its divisions, including GO Transit, PRESTO and Union Pearson Express.
By submitting your personal information to Metrolinx, you confirm your agreement to the terms and conditions of this Privacy Policy.
Metrolinx Privacy Policy
1. Accountability for Personal Information
Personal information is any recorded information about an identifiable individual, and may include:
name, address, telephone number or email address;
birth date;
any identifying number, symbol or other particular identifier;
information relating to financial transactions, including credit card number or bank account information; and
correspondence that is implicitly or explicitly of a private or confidential nature.
Pursuant to Ontario's Freedom of Information and Protection of Privacy Act ("FIPPA"), Metrolinx is responsible for personal information in its custody or under its control.
Accountability for Metrolinx' compliance with FIPPA and this Privacy Policy rests with Metrolinx' President & CEO, although other individuals within Metrolinx are responsible for the day-to-day collection and processing of personal information. In addition, other individuals within Metrolinx are authorized to act on behalf of the CEO, such as the Senior Privacy Officer.
2. Consent for the Collection, Use and Disclosure of Personal Information
By submitting your personal information to Metrolinx, you give Metrolinx consent to collect, use and disclose your personal information:
in accordance with this Privacy Policy;
for such other purposes as may be identified to you at the time of collection; and
for such purposes as are permitted pursuant to applicable law.
Subject to applicable law, you have the right to withdraw your consent at any time by providing written notice to us. However, please note that your withdrawal of consent may affect our ability to respond to your requests or provide services to you.
3. Collection of Personal Information
Your personal information is collected as required to enable Metrolinx to provide services and/or products to you, now and in the future. Metrolinx may collect personal information from you in person, over the telephone, by mail, by fax, or through the internet.
We may monitor and/or record telephone discussions when you call Metrolinx (or any of its divisions), to enhance customer service, for training purposes and to confirm our discussions with you. We may also operate video cameras in our facilities for the safety, security and protection of Metrolinx staff, visitors and customers as well as for the prevention and detection of criminal activity.
4. Purposes for the Collection of Personal Information
Metrolinx shall have the right to use your personal information for the following purposes:
To provide our products and services to you, including:

to communicate with you about our products and services;
to verify your identity and/or eligibility for certain Metrolinx services;
to process financial and other transactions, such as processing a fare payment or issuing a refund;
to conduct promotional campaigns, including contests, draws, raffles, promotions and offers for third party products and services;
to provide you with information on new or current products, services or upcoming events, including third party events sponsored by Metrolinx; and
to conduct and administer rewards or loyalty programs.
To manage, develop and improve our operations, products and services, including:

to respond to comments, questions or complaints;
to detect and prevent fraud, theft and other illegal activities;
to enforce and administer Metrolinx rules, by-laws and policies; and
to audit internal procedures.
To assess, process and administer: applications for employment; injury, damage and other claims; and tenders, proposals and contracts.
For research, statistical, planning and actuarial purposes, including:

to analyse business results, trends and patterns; and
to conduct market research.

To comply with our legal and regulatory requirements and to ensure compliance with this Privacy Policy and the Website Terms and Conditions.
For any other purpose required or authorized by law.
We may also use your personal information to create aggregated data. Aggregated data is data that is placed in a format that prevents or limits the chance of revealing an individual's identity. It may be used to show general statistics or track customer behavior as a whole (for example, the number of customers living in a certain area). Such aggregated information is used by Metrolinx to plan, develop, implement, market and promote our services and products. It will not be used to identify you.
If we require personal information for any purpose(s) other than those set above, we will ask for and obtain your consent before using your personal information for such purpose.
5. Disclosure of Personal Information
Metrolinx may from time to time provide your personal information to third parties that we work with to provide our products and services or who have a need to know the information for one of the purposes described above. This may include circumstances where:
aggregated data is provided to third parties for the purposes of planning, developing, implementing, marketing or promoting Metrolinx services, or for research, statistical, planning and actuarial purposes;
disclosure is required or permitted by law or pursuant to a court order; or
disclosure to a third party is reasonably required to facilitate the provision of our products or services.
Third parties includes various organizations with whom we work to provide products and services to you, including contractors and other service providers, affiliates, municipalities, and other government agencies. We will not transfer personal information to third parties unless they have agreed to comply with all applicable privacy standards, including this Privacy Policy and FIPPA.
6. Limiting Collection, Use, Disclosure and Retention of Personal Information
The collection of personal information will be limited to that which is necessary to fulfill the purposes identified by Metrolinx, in this Privacy Policy or otherwise.
Once collected, personal information will only be used and disclosed:
for the purposes for which it was collected, and to which you have consented (pursuant to this Privacy Policy or otherwise), or
as required or permitted by applicable law.
Personal information will be retained as long as it is required for the identified purposes and, thereafter, for a further period as determined by FIPPA and other applicable law. We will act in accordance with FIPPA to destroy, delete or erase your personal information from its records when it is no longer required. There may, however, be circumstances where we may not be able to completely remove your personal information, including as a result of data backup procedures or document retention policies. In these circumstances such information will continue to be held securely pursuant to this Privacy Policy.
7. Ensuring Accuracy of Personal Information
Metrolinx will take reasonable steps to ensure that your personal information is accurate, complete and up–to–date. If you wish to verify, update, remove or amend your personal information in our records, please notify us in writing at the address set out below. If you successfully demonstrate the inaccuracy or incompleteness of your personal information, we will amend your information as required. Depending upon the nature of the information challenged, amendment may involve the correction, deletion, or addition of information. Where appropriate, we will provide the corrected information to third parties that have access to your information.
8. Ensuring Safeguards for Personal Information
Security safeguards appropriate to the sensitivity of the information are used to protect personal information collected by Metrolinx against loss or theft, as well as unauthorized access, disclosure, copying, use or modification. Technical, contractual administrative and physical security measures, or a combination thereof, may be used. Metrolinx protects personal information regardless of the format in which it is held.
9. Openness about Policies and Practices
We are committed to ensuring that information about our privacy policies and practices is available to you. Metrolinx makes general information regarding its privacy policies and practises available on its website. For additional information, please contact the Senior Privacy Officer at 97 Front Street West, 2nd Floor, Toronto, Ontario M5J 1E6, (416) 202-5941.
10. Individual Access to Your Own Personal Information
Upon written request, we will confirm the existence, use and disclosure of your personal information. You may request access to your personal information at any time. Please provide sufficient information in your request to enable Metrolinx to provide an accurate account of your personal information. Depending on the nature and complexity of the request, you may be required to pay a fee (as prescribed by FIPPA) before your request can be processed.
In certain situations, Metrolinx may not be able to provide access to all personal information it holds about you. For example, we may not be able to disclose information if the record also contains references to other individuals, contains confidential information, or is subject to legal privilege. Exceptions to the access requirements are determined in accordance with applicable law, and the reasons for denying access will be provided to you.
11. Challenging Compliance
Metrolinx has procedures in place to receive and respond to complaints or inquiries about its policies and practices relating to the handling of personal information. If you believe that we are not complying with the principles set out in this Privacy Policy or FIPPA, please contact the Metrolinx Senior Privacy Officer, who will investigate your concerns. We will investigate all complaints. If a complaint is found to be justified, we will take appropriate measures to resolve the matter in accordance with applicable law.
Any questions pertaining to the privacy concerns should be addressed to:
Senior Privacy Officer
Metrolinx
97 Front Street West, 2nd Floor
Toronto, Ontario, M5J 1E6
(416) 202-5941
12. Changes
Our Privacy Policy may change from time to time; however, we will not reduce your rights under this Privacy Policy without your express consent. We will post any Privacy Policy changes on our websites and, if the changes are significant, we will provide a more prominent notice (including, for certain services, an email notification of changes to this Privacy Policy). We will also keep prior versions of our Privacy Policy in an archive for your information.
Your Privacy: Frequently Asked Questions
"Personal information" is any recorded information about an identifiable individual. Examples of personal information include:
your name, address, birth date, address, email address, and telephone number
financial information, such as credit or debit card information or bank account information, used to process pre-authorized payments for PRESTO or reserved parking
correspondence describing a personal experience with a Metrolinx service, and replies to that correspondence
personal opinions or views expressed in a letter or email to Metrolinx
demographic information collected as part of a survey
language preference provided when you register your PRESTO card
information relating to your education or employment history, collected when you apply to work at Metrolinx
Get in Touch
If you have a question about our Privacy Policy or our use of your personal information, please contact Metrolinx's Privacy Office:
Privacy Office
Metrolinx
97 Front Street West, 3rd Floor
Toronto, Ontario, M5J 1E6
Freedom of Information
For information on how to make a Freedom of Information Request, please visit our Freedom of Information request page or contact Metrolinx's Freedom of Information Office at FOI@metrolinx.com.