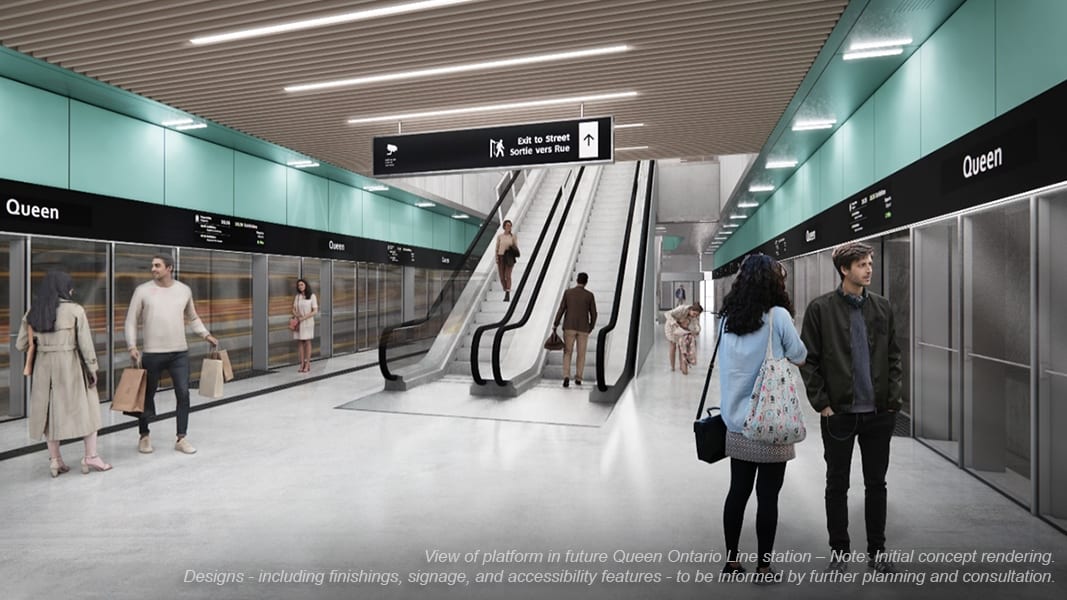 Ontario Line
A new 15.6-km subway line in Toronto that will run from Exhibition Place, through downtown, all the way to the Ontario Science Centre.
Riverside-Leslieville Station
Riverside-Leslieville Station
The Ontario Line will make it faster and easier for people to visit the vibrant communities of Leslieville, Riverside and Riverdale and will conveniently link to popular streetcar routes.
A night out on the Danforth, a soccer game at Exhibition Place or a trip to the Science Centre will be made easy for the 9,500 residents who are expected to live within a 10-minute walk of the new station by 2041. The station will also make it easier for people to access spaces like McCleary Playground, Bruce Mackey Park, and Jimmie Simpson Park and its recreation centre.
McCleary Playground will be approximately 300 square metres bigger because we are able to build retaining walls within Metrolinx land, closer to the tracks than the current fence. Jimmie Simpson Park will also benefit from this same treatment, with approximately 700 square metres of new green space added.
Read more about Ontario Line plans along the rail corridor in Riverside and Leslieville.
Map showing Riverside-Leslieville Station location. View a more detailed project footprint in the Environmental Impact Assessment Report here.
Current plans envision maintaining streetcar service in these areas throughout the duration of the project, though there might be times when service is re-routed or reduced to accommodate construction work.
Key facts
9,500 people within walking distance to the station
2,800 transfers during the busiest travel hour
4,000 people will use the station during the busiest travel hour (2,500 getting on and 1,500 getting off the Ontario Line)
6,900 jobs in the area
*Forecast for the year 2041
Land Acknowledgement
Metrolinx acknowledges that it operates on the traditional territory of Indigenous Peoples including the Anishnabeg, the Haudenosaunee and the Wendat peoples. In particular these lands are covered by 20 Treaties, and we have a responsibility to recognize and value the rights of Indigenous Nations and Peoples and conduct business in a manner that is built on the foundation of trust, respect and collaboration. Metrolinx is committed to building meaningful relationships with Indigenous Peoples, and to working towards meaningful reconciliation with the original caretakers of this land.