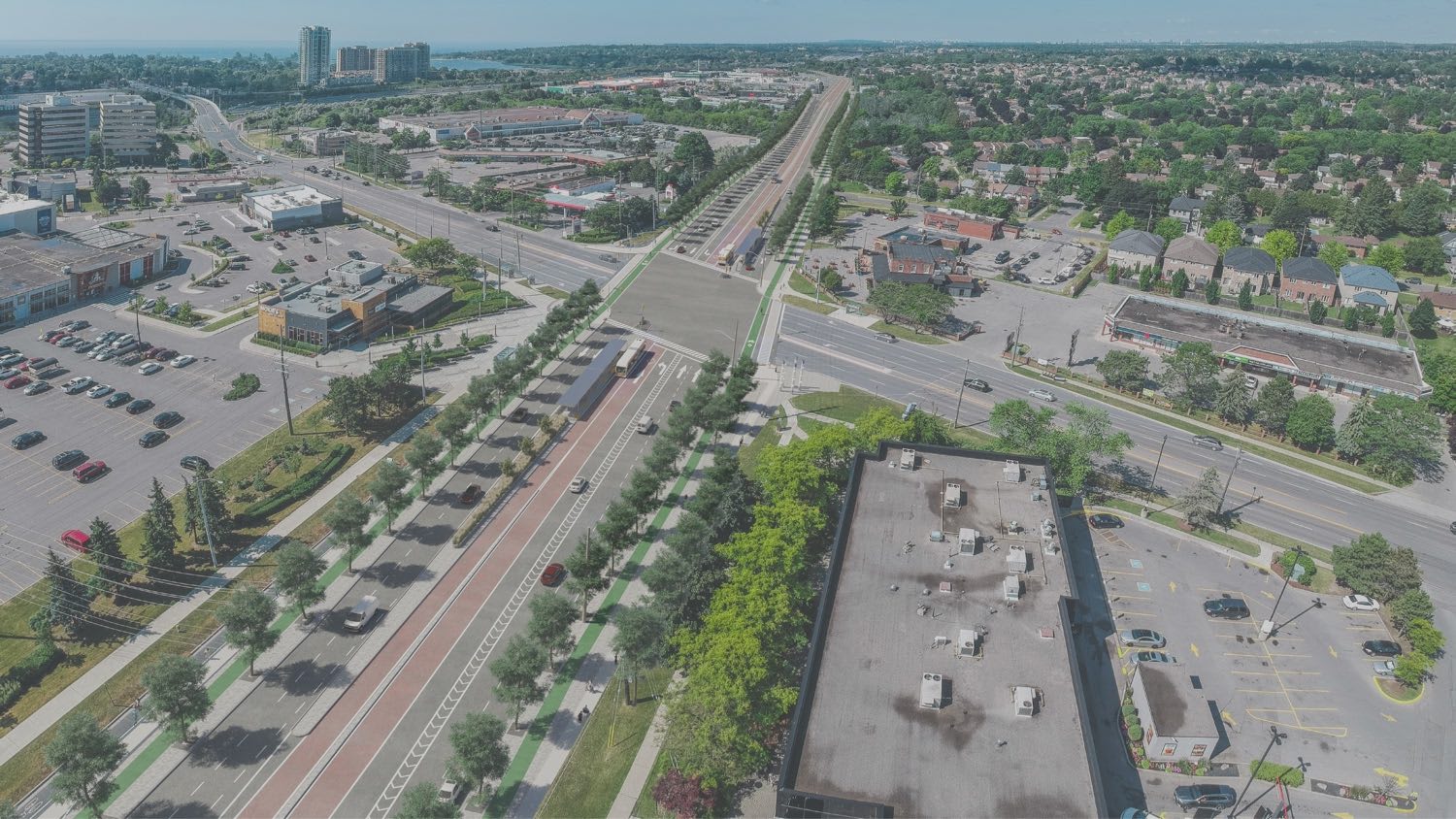 Public Information Centre
The purpose of the Public Information Centre is to present and seek feedback on the preliminary design and results of the technical studies, including potential impacts and proposed mitigation measures. Click on the icons below to learn more.
We're working on a plan to transform the way the region moves
Bus rapid transit was identified as the preferred transit technology to link Durham and Scarborough through the 2041 Regional Transportation Plan, and the Durham-Scarborough Bus Rapid Transit Initial Business Case.
Part of the plan is to bring more frequent and reliable transit service to Durham Region and the City of Toronto, through the Durham-Scarborough Bus Rapid Transit project. The proposed bus rapid transit project builds on the existing PULSE service along Highway 2 in Durham Region and Ellesmere Road in the City of Toronto.
Overview
Metrolinx is working with Durham Region, Durham Region Transit, City of Toronto and the Toronto Transit Commission on the planning and design of this rapid transit corridor.
With rapid growth in the past decade, and an expectation for this growth to continue into the future, travel demand along the corridor will continue to increase and higher capacity transit will be needed to link communities and employment on both sides of the Toronto-Durham boundary.
What is bus rapid transit?
Dedicated Lanes

...for buses, where feasible, resulting in shorter travel times and more reliable transit service

Frequent service

...with a bus every 5 minutes or less during peak hours

Smart signals

...on Highway 2 are already installed and will adapt to support smoother traffic flow for all commutes-on buses, in personal vehicles, and on bicycles

Better connections

...TTC, DRT and GO Transit routes can use the dedicated lanes and share the same stops, making it easier to travel throughout the region
Reliable service

...with buses that are separated from general traffic in most areas
Connections, Growth & Environment
The Durham-Scarborough BRT would create connections, support anticipated population growth, and help improve the environment.
The Durham-Scarborough Bus Rapid Transit corridor proposes approximately 36 kilometres of bus rapid transit infrastructure along Highway 2 and Ellesmere Road connecting downtown Oshawa, Whitby, Ajax, Pickering and Scarborough. The corridor will improve connections between TTC, DRT and GO Transit services, allowing transit riders to get where they are going faster than before.
Our engagement plan
Members of the public, agencies, Indigenous communities and other interested persons were encouraged to participate in discussions of the Durham-Scarborough Bus Rapid Transit by attending consultation opportunities or by contacting staff directly with information, comments or questions.
Project materials
Our first and second rounds of public information centres have been completed. If you were unable to attend in person please click the buttons below to download the materials.
Please note, the interactive map was last updated October 2021. The design has since been updated based on public and stakeholder feedback.
Recorded meetings
Watch recordings of past virtual live meetings, download the materials and read the Q&As now.
Stay connected
Sign up to receive email notices with new information and invitations to participate in future engagement opportunities.