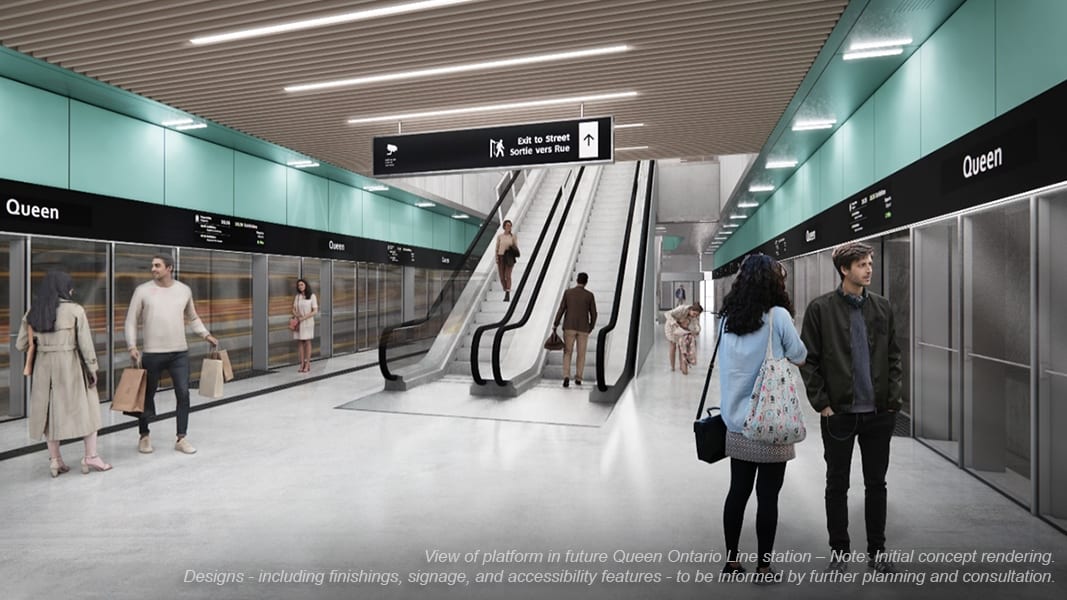 Ontario Line
A new 15.6-km subway line in Toronto that will run from Exhibition Place, through downtown, all the way to the Ontario Science Centre.
Queen Station
The Ontario Line will provide a vital transfer point with Line 1 at Queen Station, allowing customers to seamlessly transfer between the two lines to get to the heart of the city and beyond.
With seven entry points to this important transfer hub in the city's downtown core, about 16,600 people are expected to use Queen Station during the busiest travel hour.
Located in one of the city's top spots for work, shopping and entertainment, an estimated 6,100 people are expected to transfer between the Ontario Line and Line 1 and surface routes each day during the busiest travel hour.
Map showing Queen Station location. View a more detailed project footprint in the Environmental Impact Assessment Report here.
Key facts
18,400 people within walking distance to station
16,600 customers will use the station during the busiest travel hour (4,500 getting on and 12,100 getting off the Ontario Line)
6,100 Line 1 transfers during the busiest travel hour
600 surface transfers during the busiest travel hour
150,000 jobs in the area
*Forecast for the year 2041
Construction and traffic management
Linking up with the TTC's existing Queen subway station, the new Ontario Line station will put even more people within easy reach of one of the city's premier business and tourist destinations and will be the busiest connection point along the line.
To accommodate construction of this connection, Queen Street will be closed to all vehicles from just east of Bay Street to Yonge Street and from Yonge Street to Victoria Street for roughly four and a half years.
With heavily built-up infrastructure both above and below ground in the area – particularly the TTC's existing Line 1 Queen subway station – construction needs to take place in the roadway.
Closing this section of street to traffic will expedite construction for the project by roughly one year compared to an approach with multiple partial closures. This means commuters can enjoy the benefits of the Ontario Line sooner and with less disruption to the community.
Keeping people moving safely
Safe pedestrian access will be maintained throughout construction, with effective wayfinding in place to highlight clear paths through the area. Access to businesses will be maintained at all times, including access to the vital loading docks that support their operation.
Consistent access into and out of the downtown core will be maintained with modified streetcar service and additional temporary bus service during construction. For more information, visit www.ttc.ca.
Next steps
A plan developed by Metrolinx, the City of Toronto and the TTC includes building permanent detour infrastructure for the TTC's 501 Queen streetcar route to keep Toronto moving during important Ontario Line construction.
This infrastructure will also improve transit in the downtown core well after the Ontario Line is up and running by providing an alternate streetcar route when there are special events or road works taking place in the area.
The permanent streetcar detour tracks will run along Adelaide and Richmond streets, connecting via York Street and Church Street. Once completed, it will replace the streetcar detour route along Dundas.
Land Acknowledgement
Metrolinx acknowledges that it operates on lands that have been, and continue to be, home to many Indigenous Peoples including the Anishnabeg, the Haudenosaunee and the Huron-Wendat peoples. We are all Treaty people. Many of us have come here as settlers, as immigrants or involuntarily as part of the trans-Atlantic slave trade, in this generation, or generations past. We acknowledge the historic and continued impacts of colonization and the need to work towards meaningful reconciliation with the original caretakers of this land. We acknowledge that Metrolinx operates on territories and lands covered by many treaties that affirm and value the rights of Indigenous communities, Nations and Peoples. We understand the importance of working towards reconciliation with the original caretakers of this land. At Metrolinx, we will conduct business in a manner that is built on a foundation of trust, respect and collaboration.