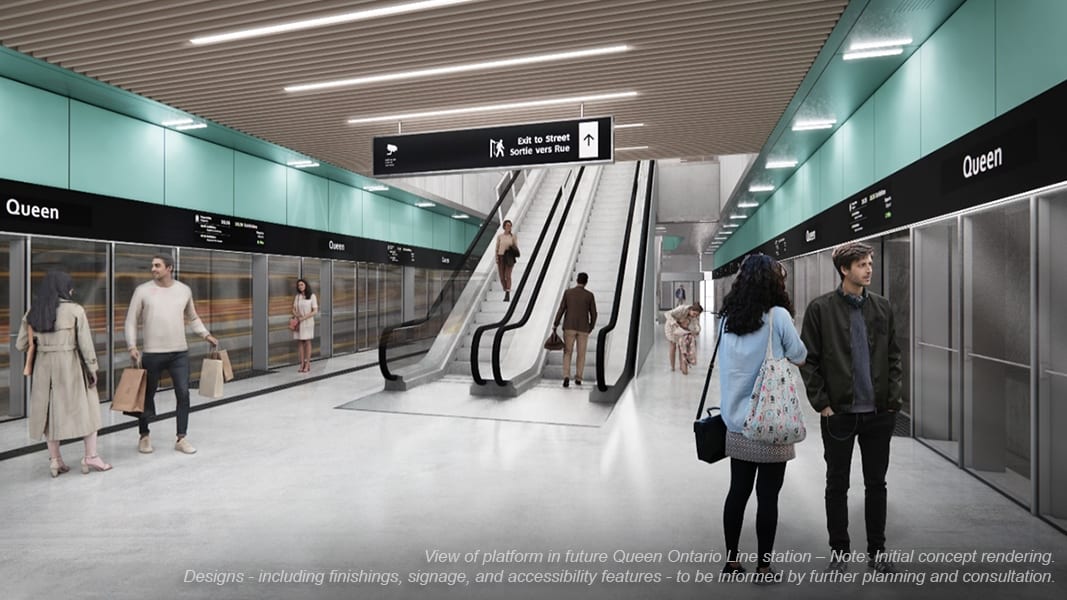 Ontario Line
A new 15.6-km subway line in Toronto that will run from Exhibition Place, through downtown, all the way to the Ontario Science Centre.
Queen Station
The Ontario Line will provide a vital transfer point with Line 1 at Queen Station, allowing customers to seamlessly transfer between the two lines to get to the heart of the city and beyond.
With seven entry points to this important transfer hub in the city's downtown core, about 16,600 people are expected to use Queen Station during the busiest travel hour.
Located in one of the city's top spots for work, shopping and entertainment, an estimated 6,100 people are expected to transfer between the Ontario Line and Line 1 and surface routes each day during the busiest travel hour.
Map showing Queen Station location. View a more detailed project footprint in the Environmental Impact Assessment Report here.
Key facts
18,400 people within walking distance to station
16,600 customers will use the station during the busiest travel hour (4,500 getting on and 12,100 getting off the Ontario Line)
6,100 Line 1 transfers during the busiest travel hour
600 surface transfers during the busiest travel hour
150,000 jobs in the area
*Forecast for the year 2041
Construction and traffic management
Linking up with the TTC's existing Queen subway station, the new Ontario Line station will put even more people within easy reach of one of the city's premier business and tourist destinations and will be the busiest connection point along the line.
The density of this built-up urban area and the existing underground infrastructure – particularly Line 1 and its existing Queen subway station – requires Metrolinx to occupy the whole roadway to safely and efficiently carry out construction work for the new Ontario Line station. Diverting all traffic for a set period of time means construction can be completed over a year sooner, the Ontario Line can open more than nine months earlier, and impacts to residents, businesses and visitors will be minimized compared to a partial closure option.
All vehicles, including streetcars, will be diverted off Queen from just east of Bay Street to Yonge Street and from Yonge Street to Victoria Street for about four and a half years, from early 2023 into 2027.
Yonge Street, Bay Street and Victoria Street will remain open throughout construction, and Metrolinx will maintain pedestrian access to all businesses in the area.
Traffic management plans will include safe, effective detours and wayfinding to ensure that people living in, working in, or visiting the area can move around quickly, easily and safely.
Safe pedestrian access will be maintained throughout construction, with effective wayfinding in place to highlight clear paths through the area. Access to businesses will be maintained at all times, including access to the vital loading docks that support their operation.
Drivers will be informed via communication tools like signs, social media and wayfinding apps like Google Maps and Waze.
Streetcar tracks that connect Queen Street to Richmond Street already exist for westbound route diversions, but Metrolinx will fund the construction of new tracks that will link Queen Street to Adelaide Street via York Street for eastbound diversions, as well as any other upgrades that may be needed on existing tracks in the area.
Metrolinx will work with the business community to keep them informed about construction and provide them with flexible and individualized supports, including making sure store fronts are clear and easy to access, loading docks are not blocked or obstructed and working together on promotions and incentives to encourage people to shop local.
Land Acknowledgement
Metrolinx acknowledges that it operates on the traditional territory of Indigenous Peoples including the Anishnabeg, the Haudenosaunee and the Wendat peoples. In particular these lands are covered by 20 Treaties, and we have a responsibility to recognize and value the rights of Indigenous Nations and Peoples and conduct business in a manner that is built on the foundation of trust, respect and collaboration. Metrolinx is committed to building meaningful relationships with Indigenous Peoples, and to working towards meaningful reconciliation with the original caretakers of this land.