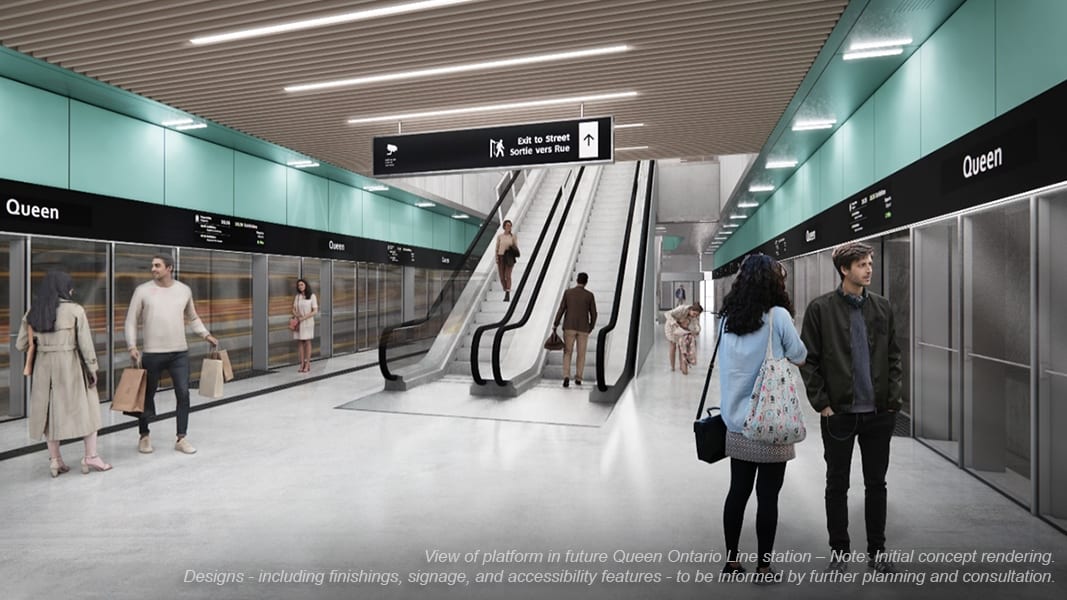 Ontario Line
A new 15.6-km subway line in Toronto that will run from Exhibition Place, through downtown, all the way to the Ontario Science Centre.
Queen-Spadina Station
The station at Queen and Spadina will relieve crowding on the popular 501 Queen and 510 Spadina streetcar routes. Current plans envision maintaining streetcar service in these areas throughout the duration of the project, though there might be times when service is re-routed or reduced to accommodate construction work.
Map showing Queen-Spadina Station location. View a more detailed project footprint in the Environmental Impact Assessment Report here.
Station entrances have been placed only a few steps away from streetcar stops on both the northeast and southwest corners of the intersection, allowing Ontario Line customers to walk from the subway platform directly to their preferred streetcar stop without having to cross the street.
Infrastructure Ontario has also proposed a new Transit-Oriented Community for this site, which will bring a vibrant, mixed-use community to the area that will put more housing, jobs and retail space for businesses within easy reach of transit.
Land Acknowledgement
Metrolinx acknowledges that it operates on the traditional territory of Indigenous Peoples including the Anishnabeg, the Haudenosaunee and the Wendat peoples. In particular these lands are covered by 20 Treaties, and we have a responsibility to recognize and value the rights of Indigenous Nations and Peoples and conduct business in a manner that is built on the foundation of trust, respect and collaboration. Metrolinx is committed to building meaningful relationships with Indigenous Peoples, and to working towards meaningful reconciliation with the original caretakers of this land.