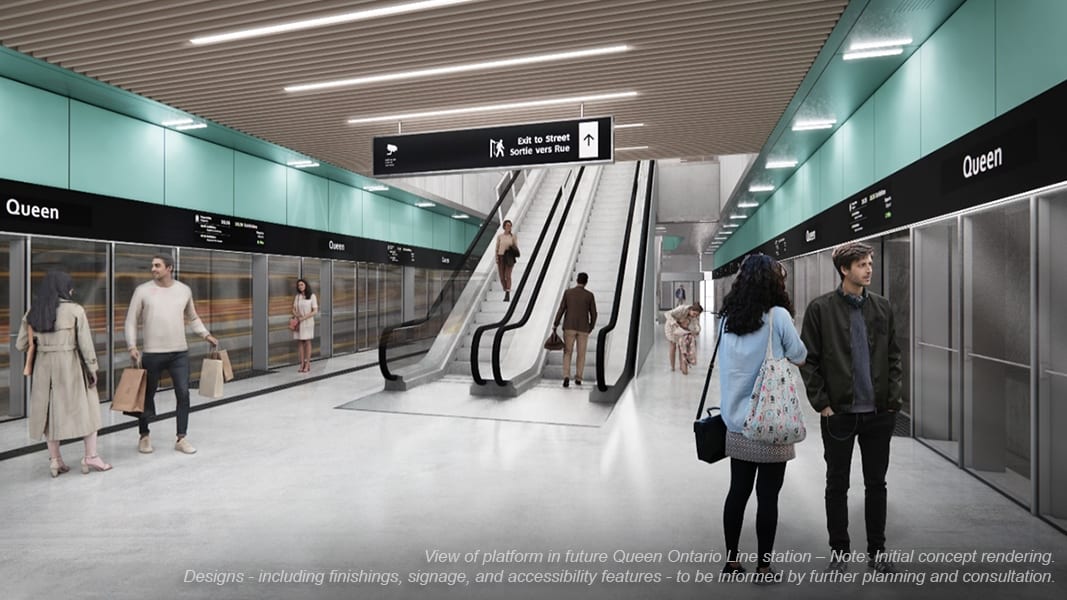 Ontario Line
A new 15.6-km subway line in Toronto that will run from Exhibition Place, through downtown, all the way to the Ontario Science Centre.
Osgoode Station
The Ontario Line will link directly to Line 1 at Osgoode Station, giving customers an important connection to and from the existing subway network.
New station entrances on the northeast and southwest corners of the University Avenue and Queen Street intersection will create needed capacity for an increasing number of subway customers. They'll also make it easy for customers coming from underground to get directly to eastbound or westbound streetcar stops without having to cross the wide and busy intersection.
Read more about why we selected the Osgoode Station location in Metrolinx News.
Map showing Osgoode Station location. View a more detailed project footprint in the Environmental Impact Assessment Report here.
The Ontario Line station at Osgoode will be within a short 10-minute walk of more than 16,500 residents, bringing another rapid transit option to a community where 8,700 households don't currently own a car. It will also connect to more than 110,500 jobs in the area.
Key facts
16,500 people within walking distance to station
12,000 customers will use the station during the busiest travel hour (3,000 getting on and 9,000 getting off the Ontario Line)
5,700 Line 1 transfers during the busiest travel hour
1,000 surface transfers during the busiest travel hour
110,500 jobs in the area
*Forecast for the year 2041.
Land Acknowledgement
Metrolinx acknowledges that it operates on the traditional territory of Indigenous Peoples including the Anishnabeg, the Haudenosaunee and the Wendat peoples. In particular these lands are covered by 20 Treaties, and we have a responsibility to recognize and value the rights of Indigenous Nations and Peoples and conduct business in a manner that is built on the foundation of trust, respect and collaboration. Metrolinx is committed to building meaningful relationships with Indigenous Peoples, and to working towards meaningful reconciliation with the original caretakers of this land.