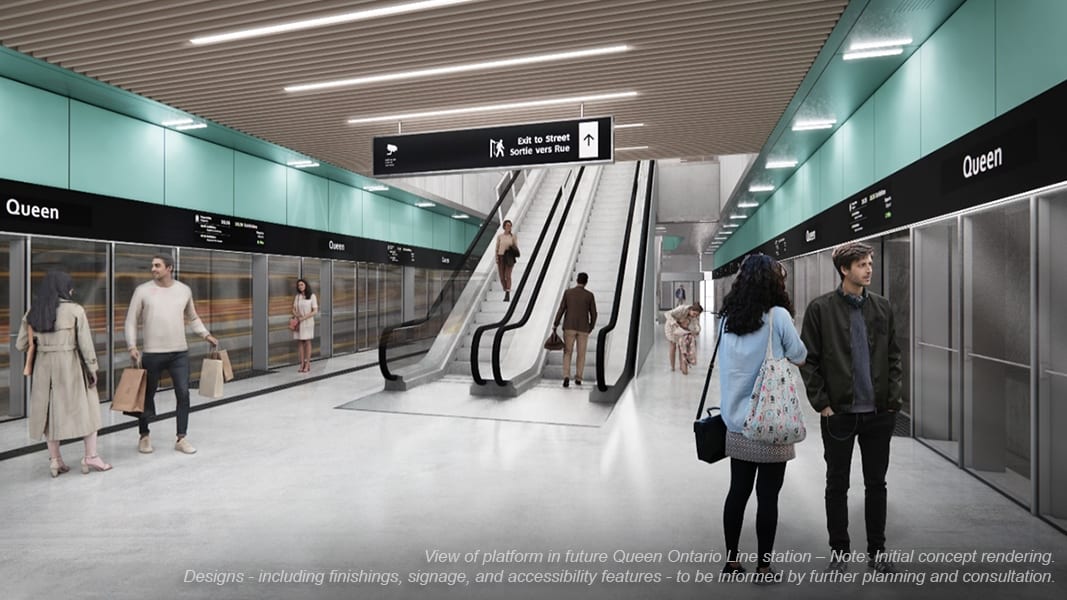 Ontario Line
A new 15.6-km subway line in Toronto that will run from Exhibition Place, through downtown, all the way to the Ontario Science Centre.
Exhibition Station
Exhibition Station serves Exhibition Place, one of the most popular destinations for sports, concerts and trade shows in the country, not to mention family attractions like the CNE. The Ontario Line station at Exhibition Place will create a connection to the GO Transit rail network and bring the subway system closer to many homes and businesses in the growing and vibrant Liberty Village community.
The above-ground shared concourse between the Ontario Line and Lakeshore West GO train services will make transferring between the two quick and seamless for the people who will make that switch. Giving customers another way to transfer from subway to GO train will take pressure off of Union Station, the country's busiest transit hub. This new interchange will help reduce crowding at Union by about 14 per cent – or 14,000 fewer people – during rush hour.
Construction on early upgrades to the station is now underway.
Map showing Exhibition Station location. View a more detailed project footprint in the Environmental Impact Assessment Report here.
The Ontario Line will also be just steps away from the 511 Bathurst and 509 Harbourfront streetcars, giving customers even more ways to navigate and explore the city.
A portal will be constructed on the north side of the existing GO corridor east of Exhibition Station for the beginning of the Ontario Line tunnels where they will run north from the existing rail corridor.
Tail tracks, west of Exhibition, will provide space for the storage of Ontario Line vehicles and protect for a future extension of the line.
Infrastructure Ontario has also proposed a new Transit-Oriented Community for this site, which will bring a vibrant, mixed-use community to the area that will put more housing, jobs, retail and engaging public spaces within easy reach of transit.
Land Acknowledgement
Metrolinx acknowledges that it operates on lands that have been, and continue to be, home to many Indigenous Peoples including the Anishnabeg, the Haudenosaunee and the Huron-Wendat peoples. We are all Treaty people. Many of us have come here as settlers, as immigrants or involuntarily as part of the trans-Atlantic slave trade, in this generation, or generations past. We acknowledge the historic and continued impacts of colonization and the need to work towards meaningful reconciliation with the original caretakers of this land. We acknowledge that Metrolinx operates on territories and lands covered by many treaties that affirm and value the rights of Indigenous communities, Nations and Peoples. We understand the importance of working towards reconciliation with the original caretakers of this land. At Metrolinx, we will conduct business in a manner that is built on a foundation of trust, respect and collaboration.