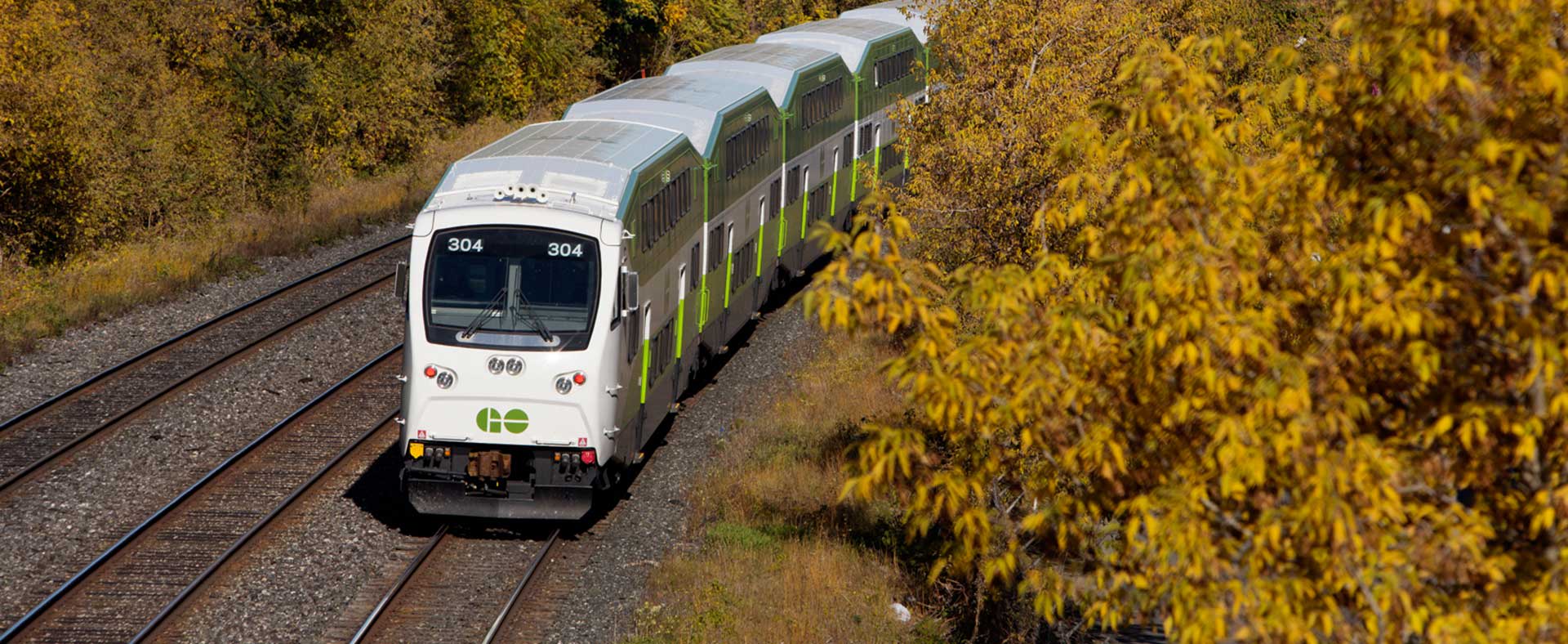 Barrie Line GO Expansion
We're transforming GO Transit to bring more frequent two-way, all-day service to the Barrie Line.
Bradford GO Station
We're bringing you an improved Bradford GO Station.
GO service is expanding to serve you better – with more frequent service, more stations, cleaner technology and more connections. Across the entire network, our goal is to deliver 6,000 train trips a week – so you won't need a schedule because you know the next train will be coming soon. We're transforming GO Transit to bring more frequent two-way, all-day service to the Barrie line, up to every 15 minutes, seven days a week.
The work has already started at Bradford GO Station – and along the Barrie Line – to get you where you need to go, better, faster and easier.
Project overview
Bradford GO Station, located on the Barrie rail corridor, is an important station in Simcoe County. With the population of Simcoe County expected to grow by approximately 37% by 2041, GO Expansion is happening to bring two-way, all-day service to the Barrie Line to enable better connections and travel opportunities.
Upgrades to Bradford GO Station, including parking and bus loop improvements, are a key step in support of Barrie GO Line expansion. These improvements will help to ease congestion and will get customers where they need to go, when they need to be there.
Construction on the following Bradford GO Station improvements are scheduled to begin in 2022:
Installing a traffic signal at the Dissette Street entrance
Adding new sidewalks into the station from Dissette Street and Bridge Street
Upgrading station lighting and CCTV
Upgrading parking spaces and rehabilitating the existing parking lot
Upgrading stormwater management system
Reconfiguring the bus loop with three new bays and installing one new heated shelter
Station improvements at Bradford GO will make the station more accessible for customers, whether they're arriving on foot, by transit, or by car. This construction project will also support increased station security with upgraded lighting and CCTV.
By making improvements today, we can deliver infrastructure that will support faster, two-way, all-day service.
This project is part of GO Expansion, which means faster, more frequent travel is coming your way.
In the news
GO Expansion progresses along the Barrie line
September 27, 2022
Construction continues along the Barrie GO Line. Here's the latest updates on what's happening along the line. [Read More]
GO Expansion explained - What it means for you
April 13, 2022
GO Expansion is exactly what it sounds like … and more. It is a massive expansion of rail service across the region. With two-way, all-day service across core GO lines, faster trains, and service every 15 minutes (or better) GO Expansion will give people more reasons to use transit. [Read More]
Construction starts at Bradford GO Station
January 31, 2022
Metrolinx is making improvements at the Bradford GO Station – one of the Barrie GO Line's busiest stations. The first phase of the project has kicked off and will bring improved parking, station access, are more. Here's a look at the changes in store for Bradford GO. [Read More]
Subscribe to e-newsletter
Sign-up for Simcoe County updates
Subscribe for the latest news from Metrolinx. You can unsubscribe at any time.