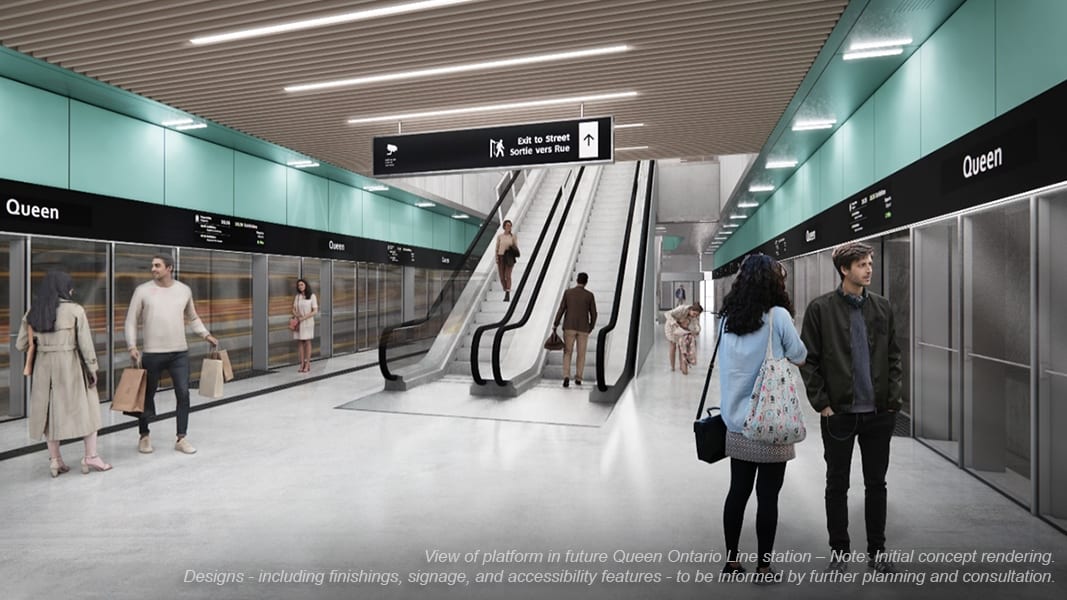 Ontario Line
A new 15.6-km subway line in Toronto that will run from Exhibition Place, through downtown, all the way to the Ontario Science Centre.
Science Centre Station
A new transit hub at the Science Centre Station will connect the Ontario Line to the Eglinton Crosstown LRT and frequent local and express bus services from the north.
The station is elevated, located at the northeast side of Don Mills Road. This positioning will allow for better integration with the future TTC bus terminal at this site and potential future extension of the Ontario Line to the north.
Map showing Science Centre Station location. View a more detailed project footprint in the Environmental Impact Assessment Report here.
Customers will be able to access both the Eglinton Crosstown and the Ontario Line from entrances at both the southwest and northeast corners of Don Mills and Eglinton. Underground passages will provide an alternative to crossing the intersection at street level.
For customers transferring from the Ontario Line to the Eglinton Crosstown, escalators and elevators will provide accessible, indoor connections between the two lines as well as access to the bus terminal.
Tail tracks, north of the stations, will provide space for the storage of vehicles and protect for future expansion. 
Key facts
8,000 people within walking distance to station
5,800 customers will use the station during the busiest travel hour (3,600 getting on and 2,200 getting off the Ontario Line)
3,600 transfers to/from the Eglinton Crosstown LRT during the busiest travel hour, and 1,400 from local buses
9,200 jobs in the area
*Forecast for the year 2041
Land Acknowledgement
Metrolinx acknowledges that it operates on lands that have been, and continue to be, home to many Indigenous Peoples including the Anishnabeg, the Haudenosaunee and the Huron-Wendat peoples. We are all Treaty people. Many of us have come here as settlers, as immigrants or involuntarily as part of the trans-Atlantic slave trade, in this generation, or generations past. We acknowledge the historic and continued impacts of colonization and the need to work towards meaningful reconciliation with the original caretakers of this land. We acknowledge that Metrolinx operates on territories and lands covered by many treaties that affirm and value the rights of Indigenous communities, Nations and Peoples. We understand the importance of working towards reconciliation with the original caretakers of this land. At Metrolinx, we will conduct business in a manner that is built on a foundation of trust, respect and collaboration.