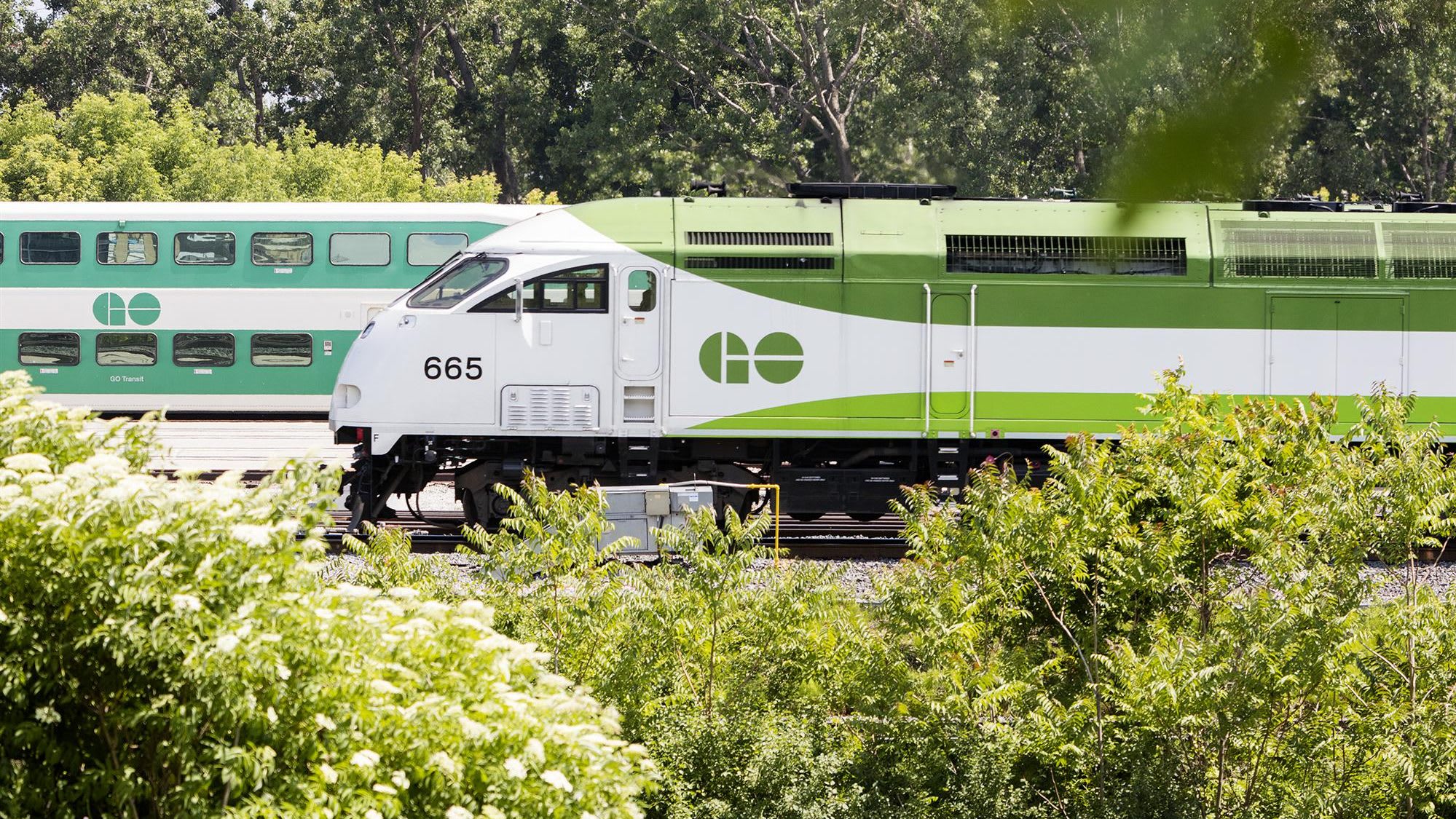 Kitchener Line GO Expansion
Corridor Improvements
Corridor work along the Kitchener Line is part of the GO Expansion program, which will transform GO rail from a rush-hour service to a more frequent, two-way, all-day rapid transit experience. Foundational work for a second track, as well as other corridor improvements, will make it possible to deliver increased two-way, all-day service.
---
Highway 401 and 409 rail tunnel
Metrolinx constructed twin tunnels, less than three metres underneath Highways 401 and 409 – all without disrupting the 21 live traffic lanes directly above. Given it is one of the busiest sections of highway in North America, digging approximately 180 metres per tunnel was a unique challenge.
With major construction substantially complete, communities are one step closer to more service along the Kitchener corridor.
The Highway 401 and 409 Rail Tunnel project is part of the GO Expansion program, which will transform the Kitchener line from a rush hour commuter service to a more convenient transit experience with frequent, two-way, all-day rail service.
As the region continues to grow, more trips along the Kitchener line will open up opportunities for those connecting to jobs, family and what matters most – helping them get to where they need to go better, faster, easier.
Adding Track
We've been adding track along the Kitchener Line, in preperation for increased service levels planned as part of the GO Expansion program.
In 2018, Metrolinx completed the installation of a fourth track from Nickle Street to Black Creek Drive.
Now, a new approximately 2.5-kilometer section of track, will be installed from Lansdowne Avenue to Dupont Street to increase capacity on the Kitchener Line.
GO Expansion will offer more frequent service during middays, evenings, and weekends – giving customers more flexibility to schedule what is most important and everything else in between. 
For information on the work happening between Georgetown GO and Kitchener GO, please visit the Kitchener Extension project page.
---
Electrification
How do we take a rush hour commuter service to the next level? It's about more than just the number of trips. Using electric trains on sections of the Kitchener Line will allow faster trains to transport you and will offer all-day trips, going two ways, as quickly as every 15 minutes.
Going to Pearson Airport? get there faster, easier and greener with electrified UP Express service planned as part of GO Expansion.
Electrifying GO rail corridors is a multi-year project and we are committed to working with residents across the Greater Toronto and Hamilton Area throughout the process.
---
Community documents
Review the latest construction notices and community documents for the project.
Connect with us on social
---
Subscribe to our e-newsletter
Sign up for regional updates
Subscribe for the latest news from Metrolinx. You can unsubscribe at anytime.