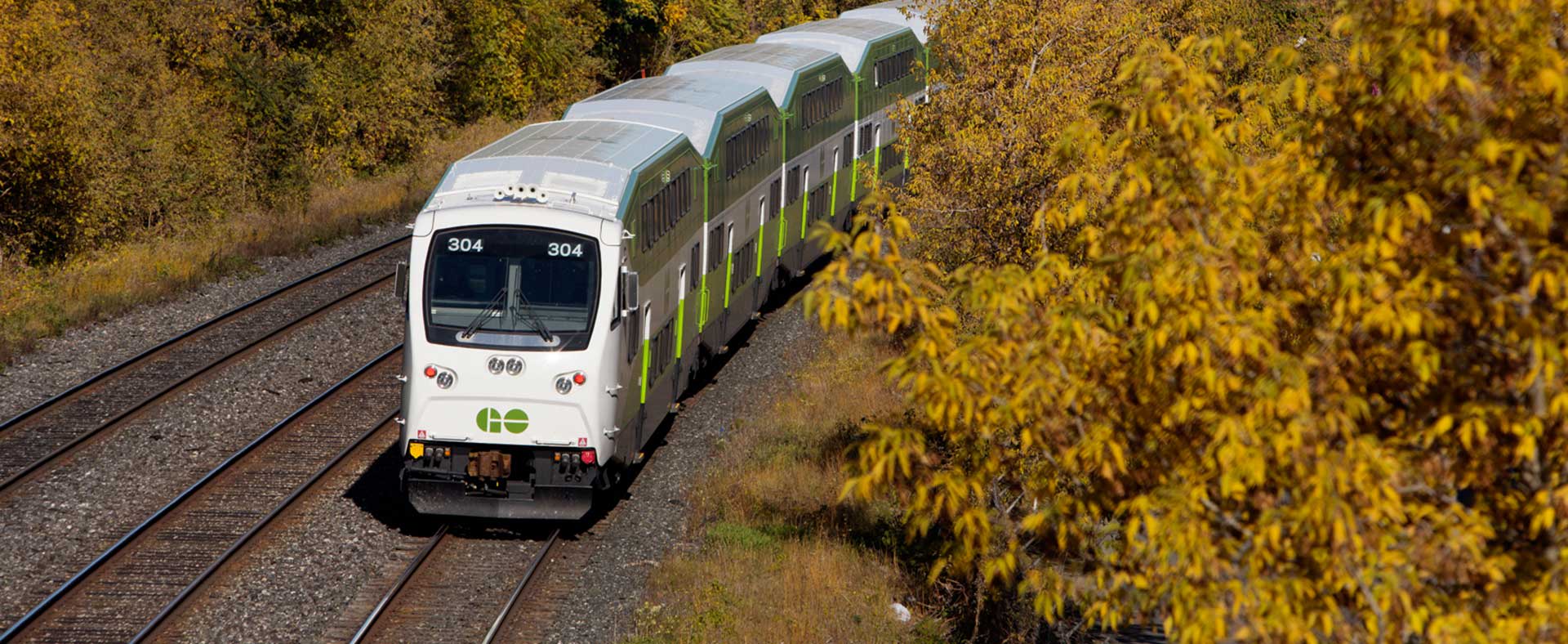 Barrie Line GO Expansion
We're transforming GO Transit to bring more frequent two-way, all-day service to the Barrie Line.
Bloor-Lansdowne GO Station
Bloor-Lansdowne GO Station
A New SmartTrack GO Station at Bloor Street West and Lansdowne Avenue.
Situated on Bloor Street West, just west of St. Helen's Avenue, on the Barrie Rail Corridor, the new station will feature bike parking, an entrance at Bloor Street (lower) level and at platform (upper) level, a plaza and landscaping at the platform level, one tunnel connecting East and West platforms and a multi-use path from the Davenport Diamond greenway north of Bloor Street to Dundas Street. This multi-use path will be routed adjacent to the Barrie GO Rail Corridor and will provide connection to the West Toronto Railpath.
The construction contract for Bloor-Lansdowne GO Station was awarded in July 2023 with work anticipated to begin in 2024. 
Project overview
SmartTrack is coming to Toronto to bring you a better connected, more modern transit network to get you where you need to go within your city and beyond. The SmartTrack Stations program will leverage roughly 40 km of Metrolinx's pre-existing GO rail corridors within the city, so that new rail stations are closer to where people live, work and travel.
Specific benefits for the surrounding community include:
Nearby access to UP Express and TTC connections
Easy access to West Toronto Railpath
A new multi-use path along the east edge of the rail corridor to connect north of Bloor Street
Single train connection to Union Station
Convenient access to destinations on the Barrie Rail Corridor – such as Caledonia, Downsview, Aurora, Newmarket and Barrie.
This transformative infrastructure project will provide a greater choice of reliable and convenient route options to shorten commutes and increase quality of life for locals and visitors alike. The new stations are projected to bring 110,000 new daily riders to the rail network by 2031, providing easy access to more than 52 major regional destinations located within 800 metres of transit stations, including major shopping centres, community facilities and educational institutions.
The SmartTrack program is a joint initiative of the Province of Ontario, Infrastructure Ontario, the City of Toronto and Metrolinx. Please visit the City of Toronto webpage for more information on the program.
In the news
What is SmartTrack and how will it improve GO service in Toronto neighbourhoods?
December 6, 2021
SmartTrack will change the way Torontonians use GO Transit. Five new stations will be built along existing GO tracks in 'the Six'. The new SmartTrack GO stations will give residents an opportunity to join commuters on faster rides within the city. This is an example of how adding new transit options will build a network effect and encourage more people to leave their cars behind. [Read More]
GO Expansion progress along the Barrie line well on its way
September 3, 2021
The Barrie GO Line is being prepared to support future two-way, all-day GO service. Here's some more information on what's going on along the Barrie Line, and how it's paving the way for GO Expansion. [Read More]
New agreement with City of Toronto helps bring new SmartTrack stations closer to reality
August 17, 2021
The province and City of Toronto have signed a revised agreement in principle for the SmartTrack Stations program, launching the procurement process for four new GO stations around Toronto. A fifth station, East Harbour will be delivered through a transit-oriented community process. [Read More]
Improved transit in Toronto with GO Expansion means new lines and new stations
November 22, 2021 Once implemented, the GO Expansion program will deliver all-day, two-way service with faster trains running every 15-minutes on more of the GO Network. Last week, Metrolinx News reported on how this project will improve service to and from destinations outside Toronto. Today let's look at how GO Expansion – combined with other new Metrolinx projects – will reduce travel times inside the city. [Read More]
Subscribe to e-newsletter
Sign-up for updates from Metrolinx
Subscribe for the latest news from Metrolinx. You can unsubscribe at any time.