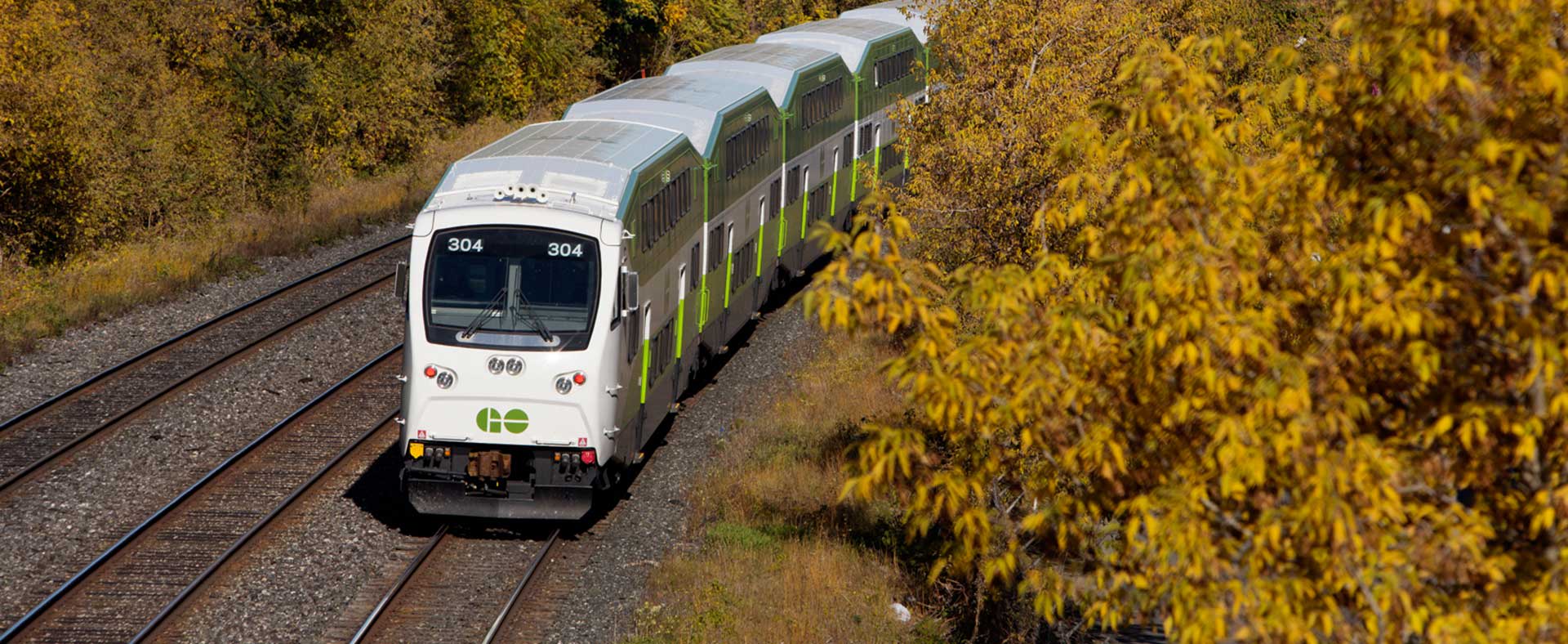 Barrie Line GO Expansion
We're transforming GO Transit to bring more frequent two-way, all-day service to the Barrie Line.
Corridor Improvements 
These improvements on the Barrie Line are part of the GO Expansion program, which will transform GO rail from a rush-hour service to a more frequent, two-way, all-day rapid transit experience. Foundational work for a second track, as well as other corridor improvements, will make it possible to deliver increased two-way, all-day service.
Grade Separations 
Eliminating level crossings (where train tracks cross roads) will make the network better, faster and the region easier to travel in. There are two options when building a grade separation, tracks can either go under or over the road. By separating the road from the rails, vehicles can pass under (or over) a railway, without having to stop and wait for trains. Multiple grade separations are taking place across the network. Rail to rail grade separations are also needed, for much the same reason – to reduce traffic conflicts where train lines intersect. 
Davenport Diamond Guideway & Greenway
The Davenport Diamond refers to the intersection where the Barrie GO corridor meets the CP rail tracks. It's one of the busiest train intersections in North America. As Metrolinx connects our region with two-way all-day GO service, it means more trains will be passing through and we need a solution to this congestion problem. 
The Davenport Diamond Grade Separation Project is a critical part of Metrolinx's GO Expansion program and represents an important transit infrastructure commitment that will significantly improve service on the Barrie GO Line. 
To solve the congestion problem, Metrolinx will build a raised Guideway for GO trains above the CP rail tracks.
Underneath this raised guideway, we've worked with the local community to create the greenway: new public space that enhances the community experience and that will promote the area as a civic destination.
The Greenway will include:
Fully accessible multi-use path for pedestrians and cyclists
A sustainable approach to landscape and plantings
Beautiful pollinating gardens
Gathering spaces for the community
Maintenance and Storage Facilities 
When the trains aren't busy moving people around the Greater Golden Horseshoe area, maintenance and storage facilities provide the space required for mechanical maintenance, body repair, storage between peak periods, as well as day-to-day cleaning and operational services. In 2018, the Whitby Rail Maintenance Facility, a 500,000 square foot facility was built to help achieve GO Transit's planned service expansions. Prior to start of operations at WRMF there was only one GO Train maintenance facility for the whole system, called Willowbrook, located in Etobicoke, which underwent improvements in early 2021. 
Adding Track 
Many Metrolinx rail corridors were built with one track. With more service planned, more tracks must be added. To enable two-way, all-day service, work is underway to add a second set of tracks to the Barrie GO line up to Aurora GO station. A second track means that more than one GO train can use the Barrie line at any time, all throughout the day. 
GO Expansion will offer more frequent service during middays, evenings, and weekends – giving customers more flexibility to schedule what is most important and everything else in between. 
Electrification
How do we take a rush hour commuter service to the next level? It's about more than just the number of trips. Using electric trains on the Barrie Line will allow faster trains to transport you and will offer all-day trips, going two ways, as quickly as every 15 minutes. 
Electrifying GO rail corridors is a multi-year project and we are committed to working with residents across the Greater Toronto and Hamilton Area throughout the process.
Community Documents