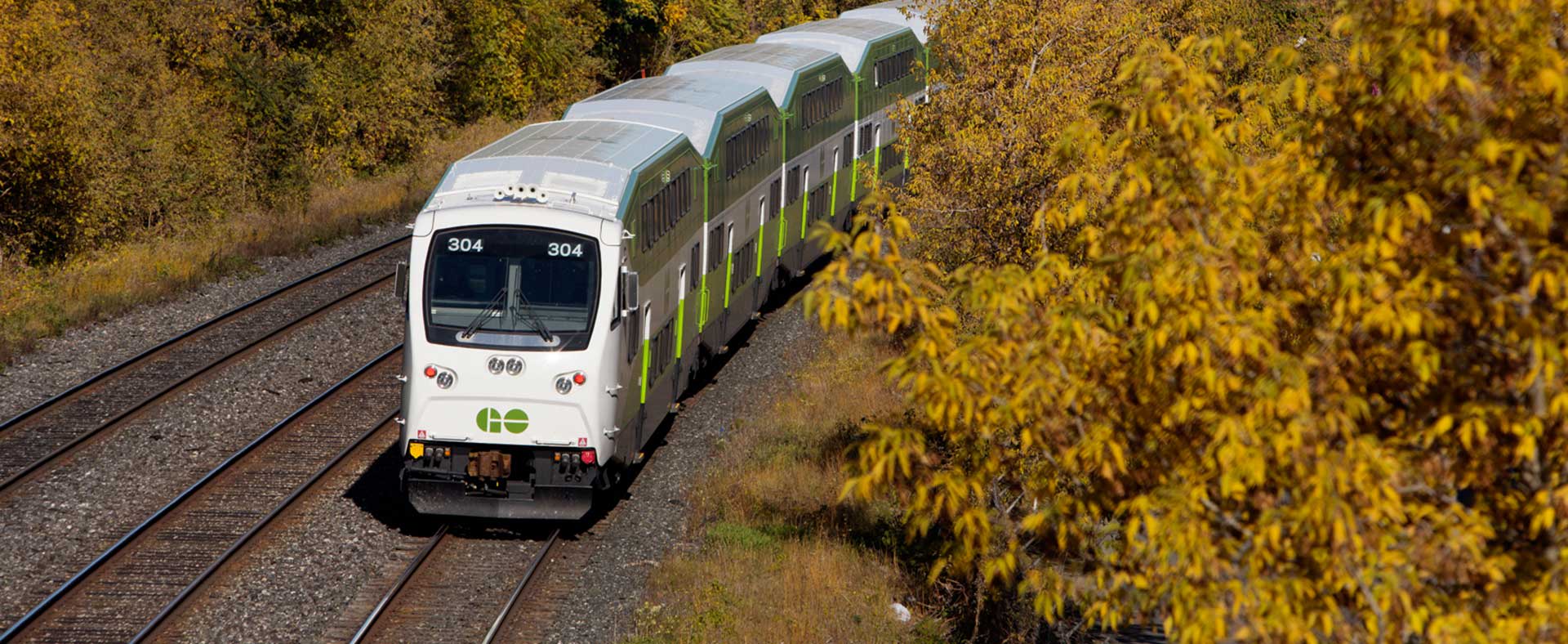 Barrie Line GO Expansion
We're transforming GO Transit to bring more frequent two-way, all-day service to the Barrie Line.
Virtual Open House - November 16-30, 2022: Barrie Double Track-Enabling Project​
Welcome to the Barrie Double Track-Enabling Project​ Virtual Open House. Question submission was open from November 16, 2022 to November 30, 2022. We invite you to the review the following information on the project and / or download the full project update presentation. In the coming weeks, answers from the project team will be posted in the forum.
GO Expansion
GO Rail Expansion Will Enable:
3x more trips from 3500 weekly trips in 2019.
Electric trains accelerate and decelerate faster. Introduction of additional express services.
No need to check a schedule with service averaging every 15 minutes.
Doubling regional commuter capacity equivalent to nine highways the size of the 401.
More trains = reduced congestion across the region, taking close to 145,000 car trips per day, off the road.
An estimated 8,300 annual jobs created for the first 12 years of delivery will be created over the lifecycle of the program.
All operating costs covered with fare box revenue. GO Rail revenues will exceed 110% of operating costs over the next 60 years.
More options and faster trains will increase peak and off-peak service. By 2055, annual ridership will exceed 200 million.
What Are We Doing?
Metrolinx is working to transform the way the region moves by building a seamless, convenient and integrated transit network across the Greater Golden Horseshoe. Over the next 10 years, Metrolinx is transforming the existing GO rail system to deliver a whole new rapid transit experience to your community. With more frequent train service you will have more options to get where you need to go.
How will the noise barrier wall be built?
1. Post Installation
2. Panel Placement
3 & 4. Noise Barrier Wall Construction
What activities will happen during construction?
Removal of existing vegetation (clearing and grubbing).

Some private trees will require trimming or removals. Removal trees will be compensated according to City of Toronto's by-law.
Residents will be advised of any removals a minimum of 2 weeks in advance.
Metrolinx will contact directly any affected property owners where private tree removals are required.

Grading the ground and preparing to install retaining walls and other infrastructure.
Installation of noise barrier wall posts and panels.
Delivery and placement of gravel material in the rail corridor.
Relocation of utilities and upgrades to drainage infrastructure, including culvert and sewer works.
Installation of security fences.
Stabilization and restoration of the disturbed soils.
What to expect during construction
Traffic Circulation
All work will be done within the rail corridor, with designated access points for construction staff.
There should be minimal impacts to traffic.
Noise and Vibration
Expect perceivable noise and vibration that is typical of construction activities. Noise levels managed to be within regulatory requirements. Vibrations levels assessed to be below what could damage property. Mitigation measures include, but not limited, to minimizing drop heights, idle reduction, and use of temporary sound barriers.
Dust
Mitigation measures will be applied for dust suppression include, but not limited to, limits on stockpile heights and the use of vacuum sweeper and water trucks.
Erosion & Sediment
Controls in place to prevent erosion and sedimentation, such as silt fences and erosion control blankets.
Monitoring
Regular environmental inspections, which include monitoring the items above.
Property Access
Metrolinx will notify property owners if any property access in required.
Communications
Construction Notice
We do our best to provide our neighbours with advance notice of construction work.
We will contact you in advance if we anticipate any impacts to transit users, pedestrians, traffic, residents or the public related to:
Lane closures
Removals on private property (trees, fences, sheds, etc.)
Night work
Track closures
Contact Information
Questions or comments? Contact:
torontowest@metrolinx.com 416-202-6911
Contact information will also be posted at the construction site.
Email Distribution Updates
We always welcome new email addresses on our email distribution list to provide updates on project and construction activities. We encourage you to sign up!
Q&A
Electrification
Q: When is the target date for the completion of the electrification of this line?
A: Final dates and schedule will be determined through the GO Expansion – OnCorridor Works project's development phase (2022-2024) and the successful proponent's schedule. Please subscribe to the Toronto West e-newsletter to stay up to date on the latest developments for this project.
Castlefield Avenue Over/Underpass
Q: Are there any plans for an over/underpass where the tracks cross Castlefield Ave just north of Eglinton?
A: At this time, there are no plans for Metrolinx to construct an underpass at Castlefield Ave.
Schedule
Q: What is the completion date for double tracking to Aurora?
A: We are in the very early phases of this project, and we will update our website when more information becomes available. Please subscribe to our e-newsletter to stay up to date on the latest developments as this project progresses.
Caledonia GO Station
Q: What is the schedule to begin construction on Caledonia GO station and when is it expected to be completed / operational?
A: Construction is scheduled to begin in Fall 2023 for Caledonia GO station, and the estimated completion date is Fall 2025, however, schedule and dates will be finalized throughout the construction process. Please subscribe to the Toronto West e-newsletter to stay up to date on the latest developments for this project.
Castlefield Avenue Over/Underpass
Q: Traffic congestion will be a serious problem without an underpass. Would it be prudent to build an underpass at Ingram that extends to Caledonia to avoid severe disruption at Castlefield and improve traffic flow in this congested area?
A: At this time, there are no plans for Metrolinx to construct an underpass at this location as part of the Caledonia project.
Dora Pedestrian Underpass
Q: What is the construction timeline for the pedestrian underpass under the Barrie line; that will connect St Helens Ave with Sterling Rd?
A: The Request for Proposals (RFP) for Bloor-Lansdowne Station proceeded with the inclusion of a basic southern access pedestrian tunnel as a provisional item. Once the RFP has been reviewed in early 2023, Metrolinx and the City of Toronto will discuss the project's scope and construction timelines. We will be looking to host the next public meeting in Spring/Summer 2023. Please subscribe to the Toronto West e-newsletter to stay up to date on the latest developments for this project.
Noise Barrier Wall
Q: I own #1 & 3 Sheffield St. In the early stages of the 2 Nd track design that is right in the rear of our property, that there would be a sound barrier wall for the train noise. I was in the zoom meeting when Metro links said that there would be sound a sound barrier wall built. I do not see it in your area drawing. This was important to me as they stated there could be trains at 7 minit intervals. This was at the BIA information zoom meeting. Where do we stand on the sound barrier Wall? Thank You.
A: Metrolinx is constructing a noise wall in this area, with the estimated completion date slated for early 2023. Please subscribe to the Toronto West e-newsletter to stay up to date on the latest developments as construction progresses.