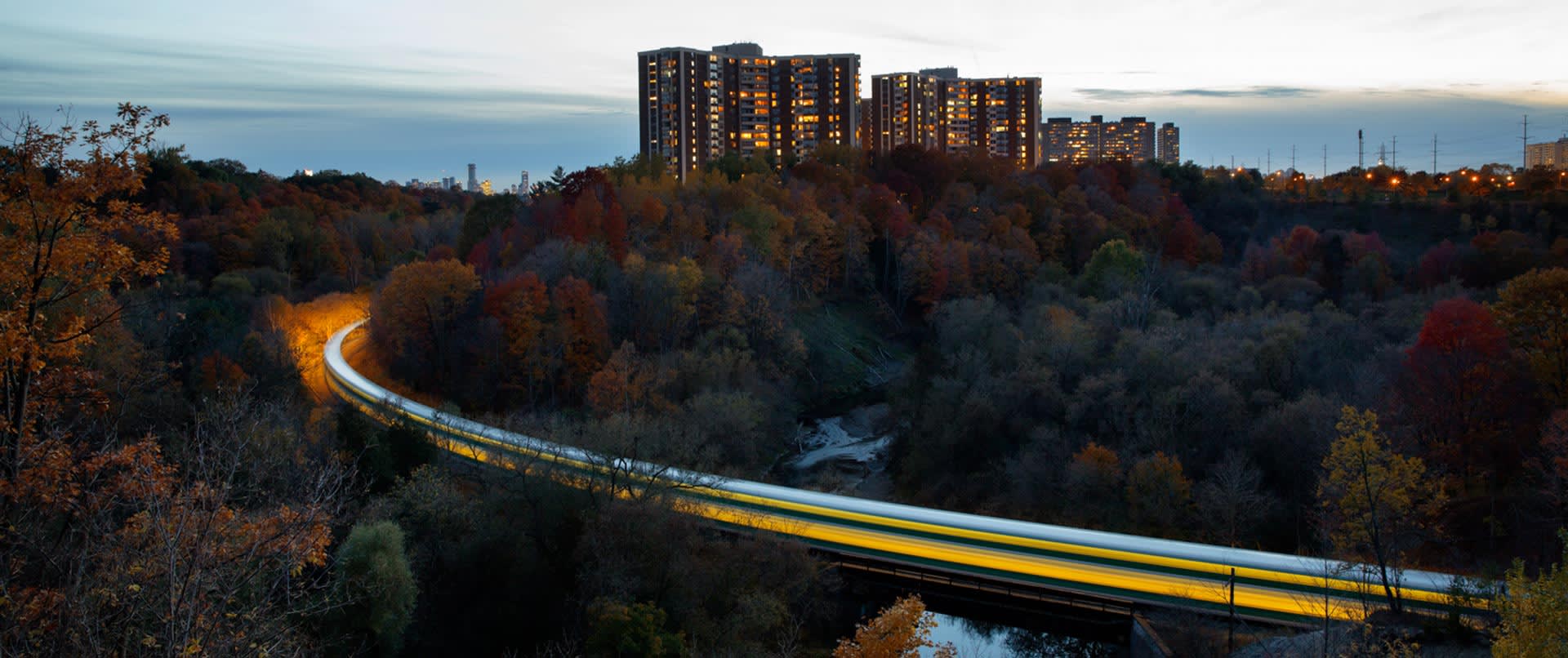 Building Near Metrolinx - Guidelines and Permits
Building Near Metrolinx – Guidelines and Permits
Development projects adjacent to Metrolinx rail corridors
Metrolinx is involved with the review of adjacent development projects in order to safeguard the integrity of our rail corridors, ensure that all development proceeds in a safe manner, and confirm that associated construction activities do not interfere with the existing and future operation, maintenance, and expansion of Metrolinx transit services – including GO Transit, UP Express, Light Rail Transit (LRT), Subways, and Priority Transit Projects.
If you are a property owner who plans to build on or develop lands that are near one of Metrolinx's existing or planned transit corridors, you may need to get approvals or a Corridor Development Permit from Metrolinx to do so.
Metrolinx will help you ensure that your plans follow all necessary guidelines, requirements and standards, and that you have all the necessary permits in place to safely proceed with construction in a way that does not interfere with nearby transit plans.
---
Contact Metrolinx to discuss your project
If you are planning a project for a property that is near a Metrolinx transit corridor, or if you have any general questions regarding development matters, please contact development.coordinator@metrolinx.com. Please include property information, a description of your work site plan, and any architectural drawings (if available) if you have a specific development proposal. A representative will be in touch to guide you through the Metrolinx review process, as well as discuss the potential for a Transit Oriented Community (TOC) partnership, where applicable.
In the event of an emergency involving third-party works on or near a Metrolinx corridor, please contact the 24/7 Mainline Network Operation Control at 416.681.5300.
Answers to common questions regarding development along Metrolinx rail corridors are also provided in the sections below.
---
What is involved with the Metrolinx project review process?
Additional information regarding key aspects of the Metrolinx review process is set out below.
Metrolinx Corridor Adjacent Development Review
Includes key reference documents for development proposals next to GO Transit/UP Express, LRT and subway corridors. Learn more.
Construction Beside and Within GO Transit Corridors
Overview of key considerations for construction activities beside and within GO Transit corridors. Learn more.
Priority Transit Corridor Project Coordination / Corridor Development Permit
Overview of Priority Transit Project (subway) requirements including Corridor Development Permit. Learn more.
Third Party Utility and Roadway Work Coordination
Overview of review process for utility projects and other works within the municipal road rights-of-way that comprise LRT and subway corridors to confirm an absence of conflict. Learn more.
---
Frequently Asked Questions (FAQs)
Private development projects adjacent to Metrolinx corridors may take a variety of forms from a major high-density multi-use project to infill re-development of a single residential lot.
Proponents pursuing projects in close proximity to Metrolinx stations or other properties may wish to consider a partnership with Metrolinx to deliver Transit Oriented Communities (TOC).
Other works of interest would include utility installations beside or across rights-of-way that are related to urban infrastructure projects or in support of adjacent development projects.