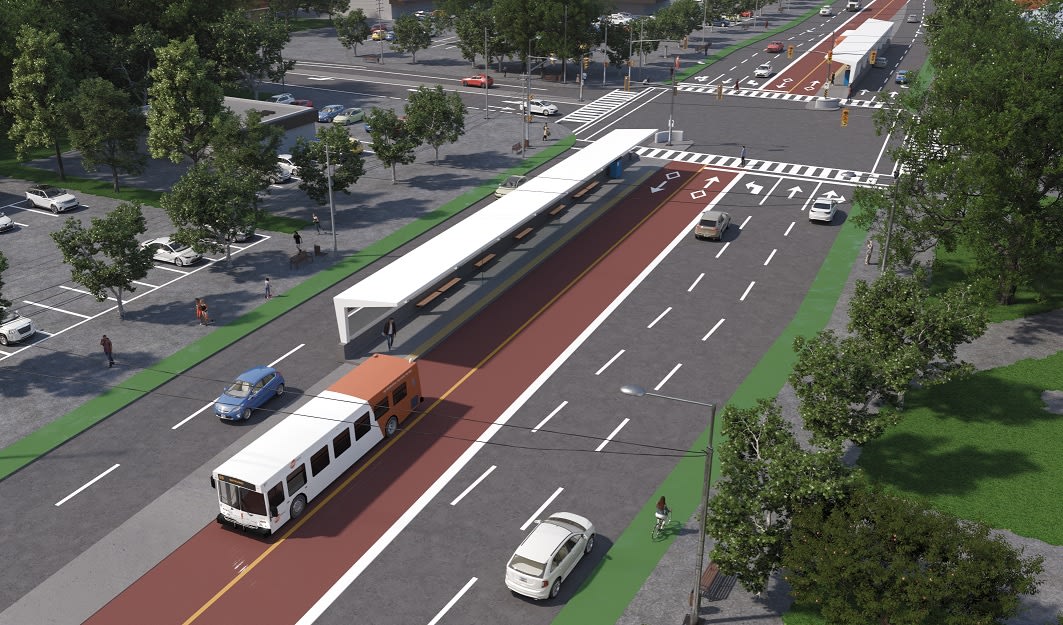 Your participation is encouraged
A Virtual Live Meeting for the Queen Street-Highway 7 BRT was held on January 26. Meeting attendees were given an opportunity in the lead up to the event to post questions and upvote those of greatest interest. The questions with the most upvotes were addressed during the Virtual Live Meeting.
In case you missed it, you can still view the below recording of the meeting as well as view a copy of the presentation.
Queen Street - Highway 7 Bus Rapid Transit Project, Live Virtual Meeting #1
The next Public Information Centre (PIC) is scheduled for Fall 2023.
Public Information Centre
The first Public Information Centre (PIC) runs from January 23 to February 3, 2023.
The purpose of PIC is to present and seek feedback on the proposed Queen Street-Highway 7 BRT in your community, including features of Queen Street and Highway 7 that you consider important for screening planning concepts.
Click on the icons below to learn more and share your feedback through the comment card or on the interactive map.
Interactive map
Please click on the interactive map below to explore the various segments and focus areas in the project study area and provide your feedback on specific areas. Clicking on a segment or focus area will bring up a sidebar with more information about its characteristics and conditions, existing and planned right-of-way (ROW), and the long list corridor planning concepts that have been considered.
Engagement opportunities
The Queen Street – Highway 7 BRT Project has three formal rounds of public engagement planned in 2023 and 2024: at the beginning and end of the Short List Evaluation phase of the project (Early 2023 and Fall 2023) and at the initiation of the TPAP environmental assessment (Spring 2024).
There are multiple ways you can connect with us. You can leave a comment by filling out our comment card or on the interactive map. In addition, you can sign up for project updates by clicking on the Subscribe button at the bottom of this page.
Our engagement plan
Members of the public, agencies, Indigenous communities, and other interested persons are encouraged to participate in discussions of the Queen Street-Highway 7 BRT by attending engagement opportunities or by contacting staff directly with information, comments, or questions.
We're working on a plan to transform the way these regions move
Sign up to receive updates on the proposed Queen Street-Highway 7 BRT and more from Metrolinx.