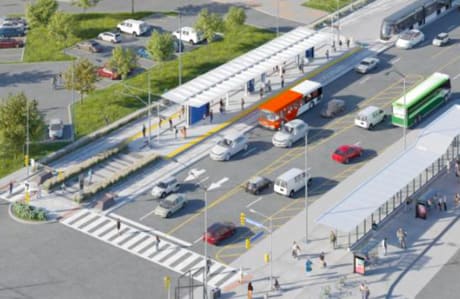 Hazel McCallion Line Open House
3 juin 2020 à 17 juin 2020
Cette page est en cours de traduction en français. Si vous avez des questions, veuillez nous contacter.
Hurontario LRT Virtual Open House
The Hurontario LRT line is coming to Mississauga and Brampton. You can expect 18 kilometers of smooth, fast, reliable connections to GO Transit lines at Port Credit and Cooksville; Mississauga Transitway; Brampton Zum at the Brampton Gateway terminal and express and local MiWay and Brampton transit services. The project will double the corridor's capacity to move people, significantly improved transit travel times and serve as a crucial link between many of the region's existing and planned transit lines.
The LRT will transform Hurontario into a vibrant people-oriented corridor connecting communities and accommodating growth anticipated over the next 30 years and beyond. A reliable and convenient transit system through this corridor will encourage effective, sustainable economic and residential growth.
This exciting new transit route will use light rail vehicles produced by Alstom, the largest LRV supplier in the world and cars will be assembled right here in the Region of Peel. The Alstom Citadis Spirit is electrically powered and produces near-zero emissions. Each unit is equipped with four allocated wheel chair areas, for a total of 15 accessibility spaces in each vehicle.  The low floor design ensures accessibility for those with mobility challenges, providing a safer and more enjoyable experience.
The LRVs will operate in a dedicated right-of-way lane unhindered by regular traffic; this means transit riders will get to where they need to be, quicker.
Infrastructure Ontario projects that over 800 jobs will be created during the peak of construction.  The project will also give priority to local vendors for the purchase of products, supplies and services. Upon completion, the Hurontario LRT will employ approximately 300 people including operators and maintenance personnel.
For more information follow us on twitter, Instagram and Facebook @HurontarioLRT and visit Metrolinx.com/hurontariolrt to sign up for our newsletter that will deliver monthly updates about all Metrolinx projects in the Region of Peel straight to your inbox. Remember to support your local business during construction.
Thank you for your patience as we work to build this important project.
Hurontario Light Rail Transit - Virtual Open House (Spring 2020)
Presentation materials and resources