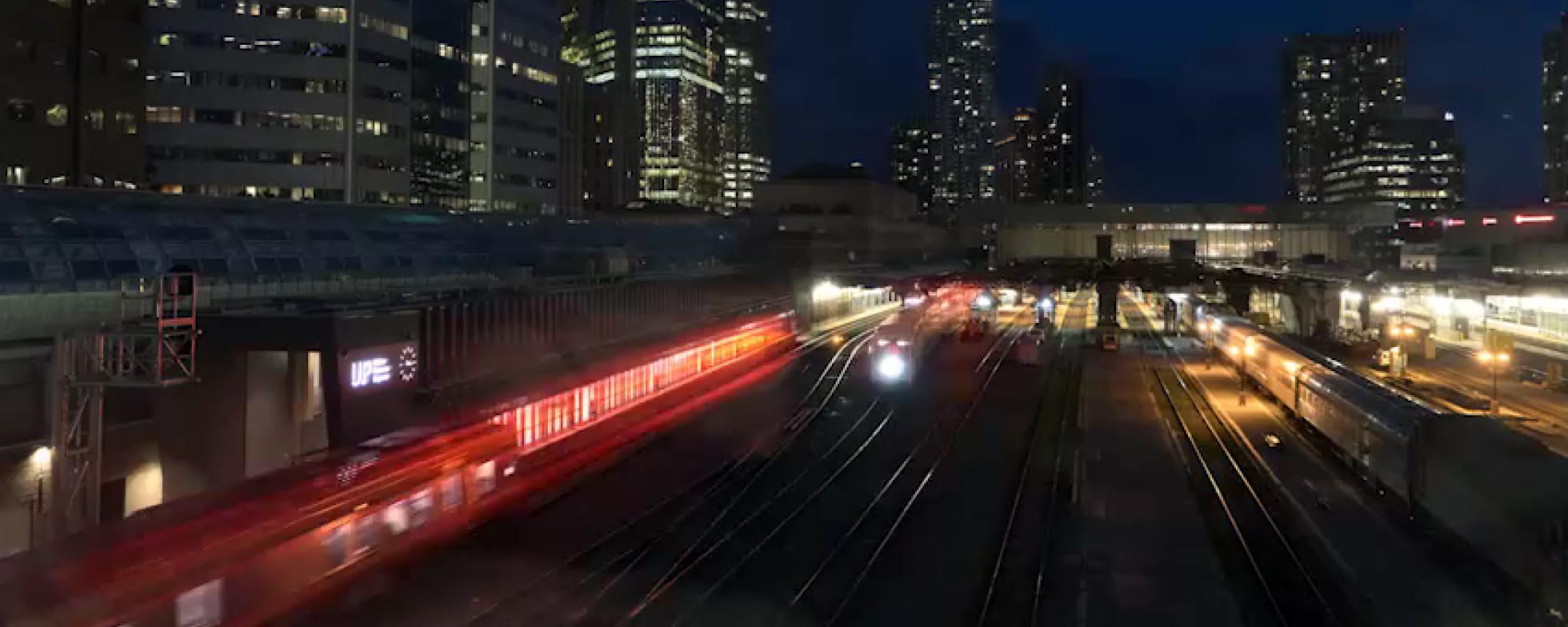 Requests from media
If you have an inquiry, please contact Media Relations by email or call the media line at 416-202-5859.
Media are asked to direct all inquiries and requests to the media relations team who will facilitate arranging interviews with spokespersons, provide access to facilities and/or provide answers to questions and background information (including high res images). Call 416-202-5859.
Media requests for access to station platforms, rail corridors or other facilities (for photographing, filming, or reporting) should be made through the media relations team who will coordinate requests with facilities staff and transit safety officers.
Board meetings
Information for media
Metrolinx is committed to transparency and recognizes that media has an important job to do that may at times require access to Metrolinx operations and facilities to report the news.
Metrolinx and its Operating Divisions are responsible for managing the safe operation of the rail and bus network, and ensuring the safety of people accessing our properties as well as construction sites.
To ensure all journalists are supported in covering the news related to its Operating Divisions, Metrolinx has the following guidelines:
Commercial requests:
Although 'commercial' requests such as advertising or other promotional shoots, require written approval, media are not considered commercial and therefore, do not require any type of written approval to access sites.
Photographing in public areas:
Media wishing to film or photograph in public areas of our facilities that do not require a ticket or boarding pass do not need to coordinate their shoot with media relations or station operations unless they require a spokesperson. Staff on site may request identification of the media and/or the purpose of the photograph from anyone to ensure there isn't a security issue. Like the public, if media board our trains or buses with a ticket, they are free to photograph.
Breaking news:
Although ideally all media requests should be coordinated through the media relations team, we recognize that during a breaking news event that might not be possible. During a major accident or incident, media access to the rail corridor in proximity to the incident will not be provided unless permitted by the police and/or investigating authority. At all times, adequate safety precautions as determined by Metrolinx must be adhered to by media. Metrolinx staff will contact the media relations team to assist with managing media needs as well. Media can contact the media line at 416-202-5859.
Access to Rail Corridors (tracks and land):
Due to safety concerns, unescorted access to the rail corridor is not allowed. If we are not able to ensure safe access to the corridor, Metrolinx staff will provide an alternative location for media to report on an incident.
Other Safety Precautions:
Media will be expected at all times to follow the guidelines and instructions established by staff on site to protect their safety and the publics or they may be asked to remove themselves from the property. Guidelines may include:
Instructions regarding allowable shooting locations (avoid being on active rails, too close to the platform edge or otherwise unsafe areas)
Safe direction of camera lights (so as not to obstruct train crew sight lines)
Wearing proper safety equipment when on construction sites to be in compliance with Health and Safety legislation
Avoid requesting access to platforms during peak periods